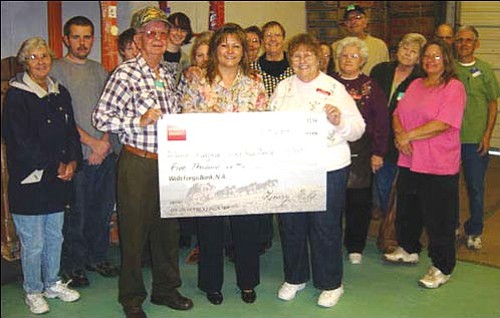 Originally Published: February 8, 2009 6 a.m.
Wells Fargo Community Banking in Kingman has donated $5,000 to the Kingman Area Food Bank. The donation will be used to serve those in need in Kingman and the surrounding areas of Golden Valley, Dolan Springs, Chloride, Peach Springs, Hackberry and Valentine. "At Wells Fargo, we know that our company is only as strong as the communities we serve," said Misty Howell, president for Wells Fargo's Community Banking in Mohave and La Paz counties. "With the recent decline in donations and government commodities due to current economic challenges, we are pleased to make this donation to support the Kingman Area Food Bank."
"The Kingman Area Food Bank is truly thankful for businesses such as Wells Fargo for their donations of money and food to help us continue to feed the hungry," said Betty Kahlor, food bank executive director.