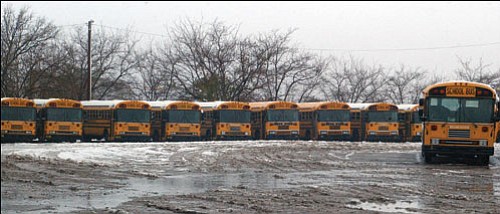 Originally Published: February 10, 2009 9:22 a.m.
KINGMAN - Students in the Kingman Unified School District will have a two-hour late start this morning due to snowy conditions on the road.
District buses will not be running this morning, also due to the weather. Students who normally take the bus to school and are unable to find alternate transportation will be excused.
Afternoon buses will run, bringing students home. Buses for after-school activities will not run today.
The boys basketball home game scheduled for tonight has been postponed until Feb. 17 at 7 p.m. at Kingman High. The girls basketball away game scheduled for tonight in Surprise has been postponed as well until Feb. 17 at 7 p.m.
For more information, contact the KUSD at (928) 753-6397.
For students at the Kingman Academy of Learning, classes and buses went on as scheduled.