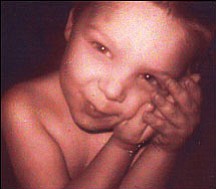 Originally Published: February 11, 2009 6 a.m.
Aedyn Danzig Stephens, age 4, was a native of Kingman and known very well around the community after his diagnosis of acute myeloid leukemia in 2007 at the age of 2.
Besides his love of superheroes, music, family and friends, he made his way into the hearts of all who knew of him.
After thirteen months at home and a recent move to Pennsylvania, Aedyn relapsed Nov. 28, 2008.
He was being prepared for a stem cell transplant. After complications from medications, our little hero made his decision to get his angel wings and live on in our hearts forever cancer-free.
He will live on by and always be remembered by his mommy, Amber; daddy, Justin; little brother, Tristin; nana, Teresa; papa, Skip; grandma, Angel; grandma, JoAnn; grandpa, Tom; and family and friends.
He fought very hard and still kept a smile, and made everyone around him smile.
His Journey's Just Begun
Don't think of him as gone away - His journey's just begun,
Life holds so many facets - This earth is only one.
Just think of him as resting - From the sorrows and the tears
In the place of warmth and comfort - Where there are no days and years.
Think now he must be wishing - That we could know today
How nothing but our sadness - Can really pass away.
And think of him as living - In the hearts of those he touched ...
For nothing loved is ever lost - And he was loved so much.
-Ellen Brenneman
We love and miss you so much.
In lieu of flowers, please donate to the Leukemia and Lymphoma Society or please become a bone marrow donor.
Help our kids.
Thank you, Kingman, for your support.
- Mommy and Daddy