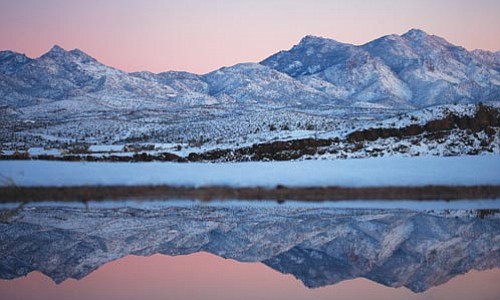 Originally Published: February 14, 2009 7:38 p.m.
The moisture was anticipated, the snow not so much. Some forecasts called for snow levels at 4,000 feet Monday morning, but in Kingman (elevation 3,300) the rain turned to heavy snow, back to rain, then heavy snow again before 5 p.m.
It was, according to the Department of Public Safety, the worst snowstorm that agency ever had to deal with in Northern Arizona. Roads were closed, semis jackknifed on Interstate 40 and U.S. 93, and fenders met fenders all over the Kingman area.
Motorists faced the uncommon task of clearing inches of the white stuff off their windshields, and many were greeted with an unwelcome cascade of snow when they arrived at their destination and opened the car door.
Four inches of wet, heavy snow fell in Kingman Monday through early Tuesday, with levels measured in feet rather than inches at higher elevations.
As is always the case at lower elevations, snowball warming followed the storm. The white landscape on Tuesday morning was largely gone later in the day, but snow still lingers in shaded areas and on roof areas that don't get much direct sunlight.