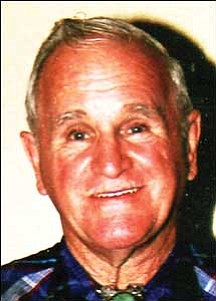 Originally Published: February 18, 2009 6 a.m.
Frederick Powlis Jr., 79, of Kingman died Saturday, Feb. 14, 2009, at The Gardens in Kingman. He was born May 12, 1929, in Beacon, N.Y. He came to Kingman 30 years ago from Blythe, Calif.
Fred retired from the Pioneer Hotel and Gambling Hall. He was timekeeper, security officer, payroll clerk and greeter. He and his wife, Gladys, were active in the gem/mineral organization for years. They loved to hunt rocks and minerals.
Fred was in the Navy and was also an airplane pilot.
Fred is survived by his daughters, Rose Marie Romans of Florida and Christine LaCombe and Marion Mullenx of Kingman; his son, Henry Powlis of Michigan; 11 grandchildren and 19 great-grandchildren.
Fred's wife, Gladys Powlis, just passed away on Jan. 29. In the 56 years together, they never were apart on Valentine's Day. Fred passed away on that day!
The funeral/prayer service will be at 11 a.m. on Thursday, Feb. 19, at Sutton Memorial Funeral Home, 1701 Sycamore Ave.