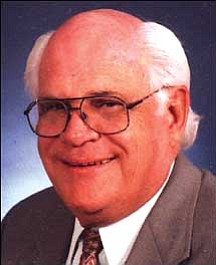 Originally Published: February 19, 2009 6 a.m.
Kyle Reid Fowler passed away in his sleep on Sunday, Feb. 15, 2009, at The Gardens in Kingman. He was born Sept. 22, 1930, to W.C. and Eva Ruth Fowler in Angleton, Texas.
He married Betty Louise Graham on Dec. 27, 1951, in Freer, Texas. They have one son, Chris Graham Fowler.
Kyle graduated from North Texas University, Denton, Texas, and taught school for 17 years in Hobbs, N.M., before joining State Farm Insurance as an agent.
After 23 years in Hobbs, the family moved to Las Vegas, where Kyle continued with State Farm as the district manager before moving to Kingman as the only agent for Kingman and Bullhead City for several years. Kyle retired from State Farm in 2001.
Kyle was active in the First Presbyterian Church in Hobbs and the Kiwanis Club in Kingman.
He is survived by his wife, Betty, of Kingman and son, Chris, of San Antonio, Texas. He is also survived by one brother, Pat and wife Jane of Angleton; his sister, Joan Caldwell of Bay City, Texas; and numerous nieces and nephews.
He is preceded in death by his parents; sisters, Hattie Lou and Mary Ruth; and brother, Bryce.
A memorial service will be at 2 p.m. on Monday, Feb. 23, at Sutton Memorial Funeral Home, 1701 Sycamore Ave.
In lieu of flowers, the family requests donations be made to Mohave Museum of History and Arts, 400 W. Beale St., Kingman, AZ 86401, or the charity of your choice.
More like this story