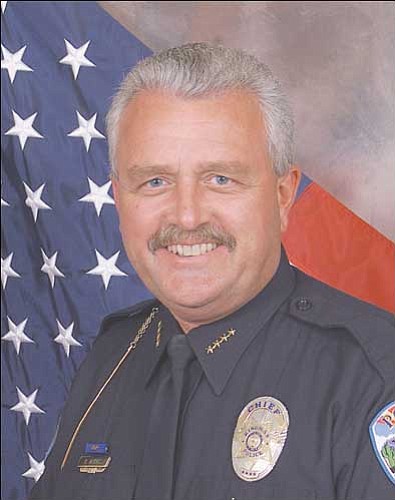 Originally Published: February 20, 2009 6 a.m.
KINGMAN - Kingman's police chief has attained a new leadership role as the public face of police chiefs all across the state.
Last month, KPD Chief Robert DeVries succeeded John Pickens as the newest president of the Arizona Association of Chiefs of Police, an organization whose stated goal is to further the interest of Arizona's law enforcement organizations, "by promoting and enhancing cooperation and coordination between the public and private entities and individuals."
Operating similarly to other organizational bodies such as the Tri-city Council or the Western Arizona Council of Governments, DeVries said the AACOP primarily concerns itself with factors impacting police departments at the local, county and state level. The association enables chiefs to share best practices and model policing policies with one another, helps them determine their top legislative priorities and gives them a collective voice in the state capitol. Its membership includes police chiefs from most municipalities across the state.
"The majority of the chiefs are members of the association, and then there is an appointed or voted-upon board," DeVries said. "They are responsible, along with the association's executive director, for the day to day operations of the association."
The executive board consists of a president and five vice presidents, ordered from first to fifth. DeVries said typically chiefs elect only one new member to the board each year to the position of fifth vice president, while the remaining vice presidents assume the position immediately above them, and the president, having served a year, steps down.
DeVries' succession is slightly different, however, since he was only elected to the board three years ago. He said several board members had since stepped down to pursue other positions, causing him to quickly rise through the ranks.
"What we try to do is have representation from the various regions across (the state)," DeVries said.
"It's scattered. The next chief who'll take over will be Steve West, who's from Springerville, and following him will be Patrick Melvin who is chief of the city of Maricopa."
As this year's president, DeVries will preside over the association's quarterly meetings, and will appear on an as-needed basis in Phoenix to advocate for or against specific legislation and policy positions.
His first appearance is scheduled for March 2, when DeVries will speak before the senate judiciary committee in opposition to a proposed state budget revision that would assess crime lab fees to cities and counties.
He said the AACOP is against the fees, because they could place some cash-strapped jurisdictions in the uncomfortable position of having to pick and choose which crimes get lab analysis and which don't.
Additionally, DeVries will keep contacts with the International Association of Chiefs of Police, which campaigns for police departments on the federal level.
In fact, DeVries noted, it was that association's efforts that helped to restore more than $200 million in Byrne Act funds, vital drug task force funding that had been slashed last year.
"If they go away, you could potentially see our drug task forces across the state going away," DeVries said. "We were active in campaigning for the Byrne Act funds, and they are now included in the federal stimulus package."
Following the end of his tenure next January, DeVries will stay on an additional year as the association's past president, in order to ensure a smooth administrative transition.
In the meantime, however, he's looking forward to advocating on behalf of Kingman's police force, and police forces across Arizona.
"For myself, it's a real honor," he said.
"I've met some tremendous individuals and law enforcement officials across the state."
For more information on the Arizona Association of Chiefs of Police, visit http://azchiefsofpolice.org/.