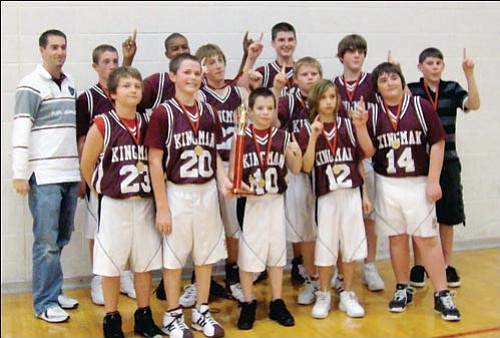 Originally Published: February 22, 2009 6 a.m.
KINGMAN - The adage "defense wins championships" held true for the Kingman Middle School 7th-grade boys basketball team on Valentine's Day as the Bobcats won the Lake Havasu City Thunderbolt tournament.
KMS (14-1) opened the tournament with a 40-19 win over White Cliffs. The Bobcats were led by Tarik Skubal's 14 points, Chayce Comins scored eight and Johnny Murphy seven.
The Bobcats reached the finals after disposing of Bullhead City 48-23 when Skubal netted 16 points, Rod Gilleo added 12 and Murphy had eight.
KMS faced Havasu Daytona in the championship, and the Bobcats' defense came to play when they held the Coyotes scoreless in the first quarter. KMS held off Daytona for a 29-15 championship win as Sean Curran scored 10 points and Gilleo added seven.
"We were outsized for only the second time all season," KMS coach Todd Winebarger said. "We held it together with teamwork and team defense."
The tournament left the Bobcats at 14-0, but a perfect season was not in the cards as Daytona exacted revenge on KMS on Tuesday. The Coyotes edged the Bobcats 32-29 to hand KMS its first loss of the season.
Skubal was high-scorer for KMS with eight points, and Ben Leader and Gilleo each added six for the Bobcats.
After trailing the entire game, Skubal and Leader led a comeback for KMS with each hitting a 3-pointer down the stretch, but it wasn't enough for the Bobcats.
"Daytona came in with a chip on their shoulder from the championship game loss," Winebarger said. "They beat us with great 3-point shooting and guard play."