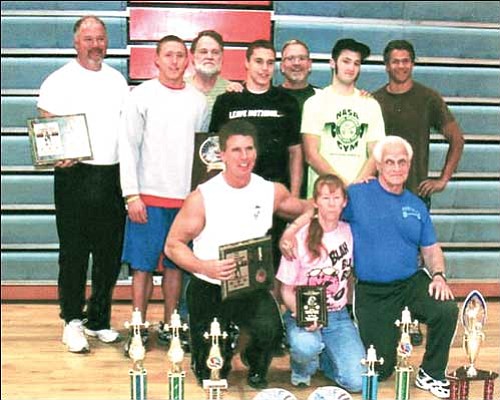 Originally Published: February 27, 2009 6 a.m.
KINGMAN - Heavy Metal Gym of Kingman took a lot of strength to its two most recent competitions, lifting a state championship and scoring a second place show of force at a world competition.
Heavy Metal took first place at the Natural Athlete Strength Association, or NASA, 2009 Arizona State Championships on Feb. 7 in Mesa. Jerry Homer Sr., owner of Heavy Metal, took a team of nine to the Mesa competition.
"We've got some strong guys here," Homer said.
Along with Homer, the team consisted of Jon Oakley, David Hunt, Travis Mentor, Jerry Homer Jr., Charlie Jones, Vickie Brown, Mayor John Salem and Andrew Thibedeau. All these Kingman lifters took first place in their respective categories.
Thibedeau, at 177 pounds, was able to dead lift 451 in Mesa.
"He did fabulous," Homer said. "If that's not impressive, I don't know what is. In fact, everyone for us was impressive."
The lineup consisted of 10 lifters for the Amateur Athletic Union Powerlifting Association International meet in Laughlin in December. There were approximately 15 countries represented, including Germany, Australia, Sweden, Mexico and several South American countries.
Shari Bauer, Bill Baxter, Vickie Brown, Danielle Carmickle, Paul Garcia, Marge Grimes, Homer Sr., Homer Jr., Charlie Jones and Shane Wold represented Heavy Metal in Laughlin.
Homer Sr., the Arizona State AAU chairman, said Grimes holds the dead lift record in her division, and three of Kingman's lifters broke 400 pounds in the bench press.
"That's really unusual," Homer said.
Carmickle said that though she's been weightlifting off-and-on, she has been steady for about a year now. Attending powerlifting meets has given her a goal to shoot for.
"I really enjoy competing and it motivates me," Carmickle said. "Probably the biggest reason for going is that I have great respect for Jerry. He's been a positive influence on my life and for my health."
Homer Sr. bench pressed 329 at the state meet. Not bad for a man who is 69 and blind.
"For being blind, this is what I enjoy," Homer said. "God has blessed me with being around all these young athletes."
This isn't the first time Heavy Metal, which was founded in 1993, has experienced success. The team won the International Meet in 2003.
"It's a team thing for us, and everyone competes at their best," Homer said. "Everyone works hard."
More like this story