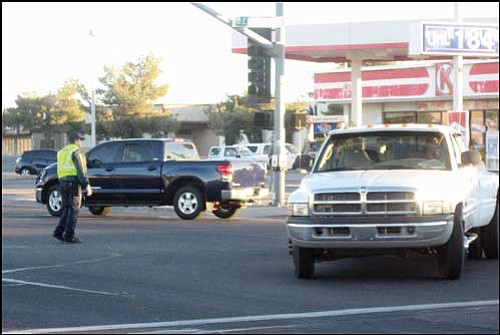 Originally Published: January 9, 2009 6 a.m.
KINGMAN - Some Kingman residents found themselves in the dark shortly after 7:30 a.m. Thursday.
Bill DeJulio, UniSource general manager for electric operations in Mohave County, said he saw the traffic lights and lights in the UniSource substation yard at Harrison Street and Airway Avenue flicker, go out and slowly come back on around 7 a.m. as he headed into work Thursday.
UniSource employees saw the system cycle through a fault, saw the lines reenergize and waited for the customer calls to come in, he said. Crews are usually able to pinpoint problems in the system by using customer calls.
This time the company got a call from the Kingman Fire Department of an incident behind Manzanita Elementary School on Detroit Avenue.
Crews found that a pair of jumpers, conductors that hang on the overhead power lines, had melted, DeJulio said. The company is not sure that the jumpers were the exact cause of the problem, but crews did have to shut off power to a large section of Kingman around 7:30 a.m. in order to make the repairs and check the lines.
DeJulio didn't have an exact number of customers that were affected by the power outage, but traffic signals at the intersections of Stockton Hill Road and Detroit Avenue and Stockton Hill Road and Club Avenue were out.
The Kingman Police Department quickly had officers on site to direct traffic.
Power to local businesses, including the Miner, and residents remained out until 9:45 a.m.