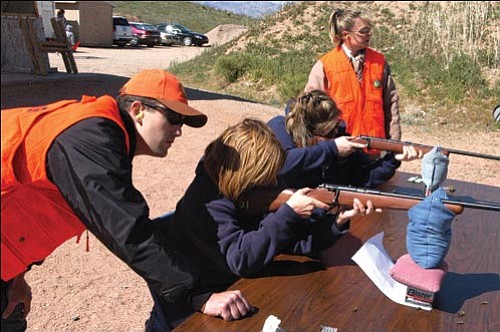 Originally Published: January 11, 2009 6 a.m.
KINGMAN - Shooting safety is the primary goal of the first Kingman shooting expo, "A Day at the Range," hosted by the Kingman office of the Arizona Game and Fish Department.
The March 21 event will be held at the 7-Mile Shooting Range. It is free to the public and for shooters of all skill levels. However, space is limited, and those interested should register early.
Although open to the public, the focus is on ages 10-18. Adults are welcome to participate, but raffle prizes and awards are for youth only.
"The goal is to teach youth about shooting safety," said Jes Antolik, law enforcement specialist with the Kingman office. "However, I think all the participants will find the experience enjoyable."
All participants are required to participate in a safety briefing at 8:30 a.m., followed by the expo events, including rifle shooting and demonstrations in various shooting disciplines.
All equipment is provided and food will be available for a nominal fee. Vendors will also be available.
Pre-event registration is required. Walk-in or mail registration to: Arizona Game and Fish Department, C/O Shooting Expo, 5325 N. Stockton Hill Road, Kingman, AZ 86409.
To register by phone or for more information, call (928) 692-7700. Include participant name, age, address, phone number, e-mail address, and skill level. The registration deadline is 5 p.m. March 17.
Registration is first-come, first-served.
The 7-Mile Shooting Range is located off exit 44 (Shinarump) on I-40. Those heading west on I-40 should take a right off the exit, and those heading east should turn left.
One-quarter mile down the road, turn left onto Oatman Road (old Route 66) and travel approximately three miles to the shooting range, located on the right.