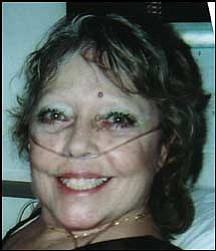 Originally Published: January 14, 2009 6 a.m.
Linda Marie Oloizia, 63, of Kingman passed away Friday, Jan. 9, 2009, in Kingman. She was born Feb. 9, 1945, in Hollywood, Calif., and came to Kingman five years ago from Apple Valley, Calif.
She graduated from high school and became a pharmacy technician and a full-time mother, grandmother, aunt and best friend. She fought for welfare rights at the Boise, Idaho, state capital.
Linda is survived by her husband, Barry Oloizia Sr. of Kingman; sons, Barry (Brenda) Oloizia Jr. of Kingman, Steven (Kat) Oloizia of Kingman, Frank Rodriquez of Riverside, Calif., and Brian (Jennifer) Oloizia of Kissamee, Fla.; and daughters, Linette (Bobby) Binkley of Lafayette, La., and Michelle Oloizia of Kingman.
She is also survived by her father, Edward Goddard; sister, Terry Lemons; brother, Johnny Goddard; stepmother, Frances Goddard; 42 grandchildren; and five great-grandchildren. She was preceded in death by her mother, Elinore Marie Snyder; grandson, Cable Walker; granddaughter, Leanne Dabb; and her stepfather, Merle Snyder.
Linda was a beautiful, loving wife, mother, grandmother and our best friend. She will be greatly missed by all who knew her. She was the glue in our family; she was the strength and the wisdom to all her children and grandchildren. She will always be cherished by all who loved and knew her, especially Barry, her husband of 45 years.
The family would like to thank those from the bottom of all our hearts who helped and comforted Linda while taking care of her at Desert Highlands Convalescent Home.
Also, Thank You to Straube Aircraft for everything they have done, and the many family and friends who helped with the donations, car wash, prayers and food. There were many blessing these past few days; no words can express our family's gratitude.
Visitation will be from 5 to 7 p.m. Thursday, Jan. 15, at Sutton Memorial Funeral Home, 1701 Sycamore Ave.
The service will be at 10 a.m. Friday, Jan. 16, also at Sutton.
Burial will be at Mountain View Cemetery, 1301 Stockton Hill Road, Kingman.
More like this story