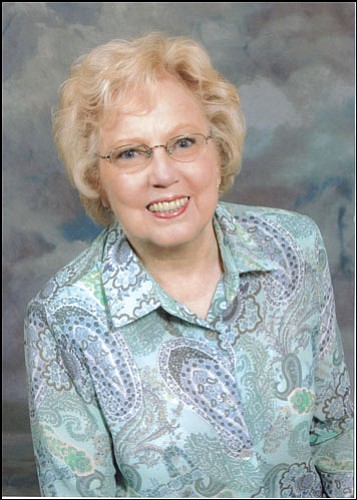 Originally Published: January 16, 2009 6 a.m.
JoAnne
Sage-Spencer
June 3, 1931-
January 11, 2009
JoAnne was born in Eads, Colo., to Fred and Retta Ellgen. She married the man of her dreams, Lowell Sage, in 1951 and began to raise their family of five children. She lived most of her life in California as a hospital administer with her then-husband, Lowell Sage. They retired in 1988 and began to travel across the country. During their travels, they found the Tehachapi Mountains, where they built their simple dream home. They immediately got involved with their local church where JoAnne later became the church secretary, a job she truly loved. In 2005, she moved to Kingman, where she could be close to her family. JoAnne had an infectious personality; you couldn't help but love this wonderful lady, and in no time, she made many great friends here in Kingman.
She is survived by her four children: sons, Steven Sage and wife Keely of Kingman, Lyle Sage of Kingman, Dale Sage and wife Shawna of Simi Valley, Calif., and daughter, Kristi Ann Murawski and husband Christopher of Kingman; her six grandchildren, Joshua, Kasie, Jonathon, Jessica, Lauren and Chloe; and her sister, Phyllis McDaniels of Eads. She is joined in heaven with her parents, Fred and Retta Ellgen; husbands, Lowell Sage and Les Spencer; her son, David Carl Sage; her brother, Dean Ellgen; and her sister, Charlotte Rikkers.
JoAnne will be remembered for her absolute love for the Lord, her beautiful, giving heart and the legacy of her children and grandchildren. She will be sadly missed by her family and friends, but we are comforted with the knowledge she has gone home to be with Our Heavenly Father.
A memorial will be held on Saturday, Jan. 17, at 11 a.m. at the First Southern Baptist Church, located at 3120 Hualapai Mountain Road, Kingman, AZ. (928) 753-3238. In lieu of flowers, donations may be made to the First Southern Baptist Church of Kingman.