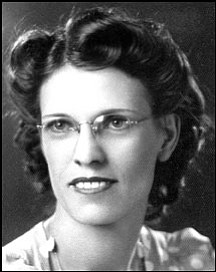 Originally Published: January 23, 2009 6 a.m.
Frankie Mae Voss, 94, died Jan. 20, 2009, in Flagstaff. She was born Aug. 9, 1914, in Brownwood, Texas, to George Francis Glover and Martha Geneva O'Kelley, the children of Texas pioneers.
She married Helmer Edwin Carl Voss on June 1, 1932, in Runnels County, Texas. They moved to Kingman in 1946.
In Kingman, Mrs. Voss worked as an office manager for Dr. Walter Brazie for many years.
She lived in downtown Kingman for 50 years before moving to Flagstaff in 2006.
Mrs. Voss is survived by two sons, Roy Voss (Bobbi) of Palestine, Texas, and Burton Voss (Frances) of Flagstaff; daughter-in-law Karron Voss of Texas; 11 grandchildren; 16 great-grandchildren; and three great-great grandchildren. She was preceded in death by her husband, Helmer Voss; and son, Jimmie Voss.
Visitation and funeral services will be at 9:15 a.m. and 10 a.m. on Saturday, Jan. 24, respectively, at Sutton Memorial Funeral Home in Kingman.
Sutton Memorial Funeral Home is handling the arrangements.
More like this story