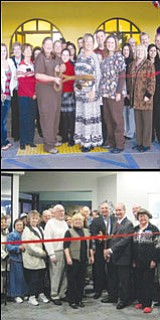 Originally Published: January 24, 2009 7 p.m.
Brock Chiropractic Inc. (upper photo, top)
Dr. Jeri Brock had a great turnout at the ribbon-cutting for his office, located at 710 Eastern, Ste. F., that opened on Oct. 21. Brock Chiropractic Inc. is a chiropractic office that also provides acupuncture and medical massage, along with a full range of other therapies.
KRMC Dr. Ramirez (upper photo, bottom)
An open house and ribbon-cutting was Jan. 6 at the KRMC offices. The public joined the staff of Kingman Regional Medical Center to celebrate the addition of Dr. Ramirez to the staff. Ramirez will be joining Dr. James Rebik at the Kingman Ear, Nose and Throat Center located at 3116 Stockton Hill Road. Ramirez is board-certified in Otolaryngology. He specializes in adult and pediatric ear, nose and throat disorders, snoring and sleep apnea, and facial plastic surgery.
1 Stop Check Cashing (lower photo, top)
On Jan. 15, there was a good turnout for 1 Stop Check Cashing's ribbon-cutting. 1 Stop offers a variety of financial services which include: auto title loans, payroll advance, check cashing, title and registration services, Western Union, money orders and pre-paid debit cards.
Anything Medical (lower photo, middle)
There was a wonderful turnout at the ribbon cutting at Anything Medical.
Backed with 20 years of experience, the family-owned-and-operated medical supply store offers a large selection of quality medical supplies. Whether you're looking for orthopedic or diabetic products, our store has what you need. Contact us today for great, personalized service we know you'll enjoy.
Mohave Museum of History & Art "City of Murals" (lower photo, bottom)
Mayor John Salem and many friends helped to celebrate as Sandy Rusinko from "Custom Art Works by Sandy Rusinko" cuts the ribbon for the "City of Murals," a display of some of Sandy's work which decorates the Mohave Museum of History and Art. To see this beautiful art work, go to 400 W. Beale Street.