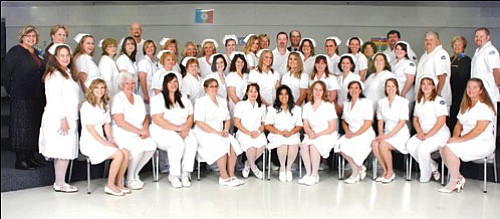 Originally Published: January 25, 2009 6 a.m.
KINGMAN - Mohave Community College welcomed 44 December graduates into the nursing profession by presenting them with their nursing pins at a ceremony Dec. 11 at White Cliffs Middle School in Kingman. There were 13 graduates from the Lake Havasu City campus, 12 from the Henry Campus-Bullhead City and 19 from Neal Campus-Kingman.
Graduates from the Neal Campus were: Bridget Byas, Gaylynn Caban, Monica Caron, Heather Caswell, Rebecca Crotinger, Ronda Debski, Courtney Dollarhide, Jocelyn Fernandez, Amanda Hembree, Wenda Johnson, David McPherson, Anna Nielsen, Phyllis Nielson, Duston R. Rapp, Christine Smith, Connie Stemkoski, Shelly Sturgill, Mary Jane Wales and Cristie Yingline.
Graduates from the Henry Campus were: Burt James, Sterling Christy, David Conahey, Traven Cunningham, Julie Davis, Caroline Marsmaker, Amie Mercer, Ashlie Swan, Kathlenne Petrowski, Lee Sample and Heather Temple.
Graduates from the Lake Havasu City campus were Patty Veisel, Julie Caley, Brent Engel, Tricia Epperly, Christy Gerber, Mary Hager, Natalie Hendrick, Debra Serr, Cory Simpson, Samantha Simpson, Deborah Sweet, Ajay Thakkar and Ericka Wheeler. Leading the ceremony were MCC Chancellor Michael Kearns, MCC Vice Chancellor of Instruction and Student Services Chuck Spotts, MCC Director of Nursing Linda Riesdorph as well as nursing faculty and staff.