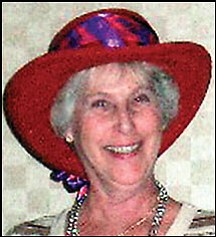 Originally Published: January 29, 2009 6 a.m.
Joyce Heberling Warren, age 67, passed away at her home in Kingman on Jan. 23, 2009, after a valiant struggle with cancer. Her best friend and husband, Michael, and sister, Punky, were at her side.
Joyce and Michael spent 23 wonderful years together. She is survived by her husband, Michael; sister-in-law, Diana Campbell of California; daughters and sons-in-law, Lauri Ann and Greg Smith, and Paulette and George Madding, all of Sheridan, Wyo.; three grandchildren and three great-granddaughters.
The oldest of six daughters born to Ed and Betty Heberling, Joyce will be deeply missed by her sisters and their families: Karen and Gary Ullman of Belgrade, Mont., Punky and Leo Johnson of Bouse, Ariz., Jean and Leonard Piercy of Shady Cover, Ore., Sandy and Howard Kimmel of Eagle Point, Ore., Debbie and Vince Arkell of Bozeman, Mont., and her 12 nieces and nephews.
Joyce was preceded in death by her parents and her daughter, Carolyn Joyce at age 13. Joyce was a master at crochet and embroidery, and loved to play bingo, vacation with her sisters and daughters, and fish with her best friend, Michael. A memorial will be held at a later date at one of her favorite fishing spots on a trout stream in Wyoming.
A heartfelt thanks from her family to her doctors, the entire staff at KRMC hospital, home health and Hospice for the superb care given to Joyce.