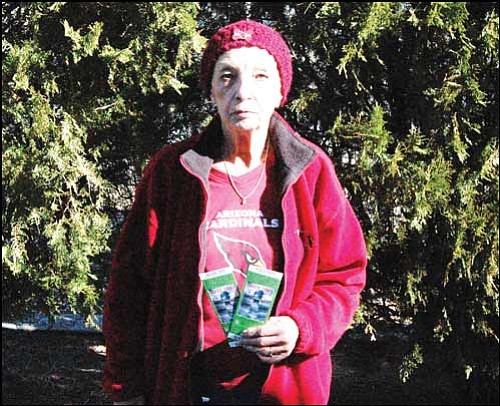 Originally Published: January 30, 2009 6 a.m.
KINGMAN - Like every Arizona Cardinals' fan, Rosie Rosencrans of Kingman has been enjoying this year's dream season. But unlike most Cardinals' fans, Rosencrans' dream is based in total reality as she leaves today for Raymond James Stadium in Tampa, Fla., for Super Bowl XLIII.
Rosie, 72, first attended a Cardinals' game in 1988, the first season they played in Arizona after being transplanted from St. Louis. Rosie went to five games that year, and since 1989, 19 years and counting, she has been a season ticket-holder.
"I got absolutely hooked," she said. "I believe in them."
Shortly after the Cardinals defeated Philadelphia in the NFC Championship Game on Jan. 18, Rosie received a letter from the Cardinals stating she could buy two tickets to the Super Bowl if she wanted.
"I couldn't believe it," Rosie said. "It just seemed impossible after all these years, and now having them go to the Super Bowl and being able to get tickets."
Throughout the years, Rosie had to deal with getting razzed by Dr. Ken Jackson, who she's worked with for 17 years.
"She's been a rabid Cardinals' fan all these years," Jackson said. "I gave her a hard time over the years for them being so bad."
Because he gave Rosie so much grief, Jackson said it came upon him on Jan. 19 to come clean with Rosie and make things right with her.
"I called Rosie on that Monday morning and told her I'd make a deal with her," he said. "If she could get tickets to the Super Bowl, then I would buy her airfare. It was the right thing for me to do."
During the regular season when the Cardinals were having their ups and downs, Rosie was struggling, too. Rosie was diagnosed with cancer in June, and within 2-1/2 weeks, she was in surgery. Chemotherapy followed for Rosie through half the football season until she had her last treatment in November.
"They tell me it's all gone," Rosie said.
It was the Cardinals who lifted Rosie's spirits during the difficult time she had. And they haven't stopped lifting them since.
"The Cardinals kept me up," Rosie said. "I was looking forward to the event of the game."
Rosie's grandson Michael is the fortunate recipient of the other ticket to the big game. Michael returned to Kingman to be near his grandmother after Rosie's husband passed on. "He wants to take care of me," Rosie said.
Sitting through all those Cardinals' games over the years, and having Jackson give her the business about her favorite team, has more than made Rosie worthy of representing the Cardinals' fan base at Super Bowl XLIII.
"She's a wonder soul," Jackson said. "It's a great thing and a lifetime experience for her. She's earned it because she's such a staunch fan."