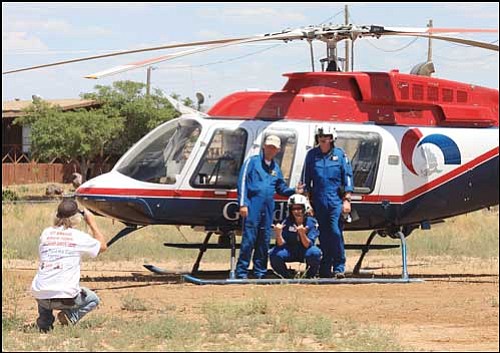 Originally Published: July 1, 2009 6 a.m.
Guardian Air Helicopter employees enjoy a playful moment posing for Daniel Swaine's camera before taking off into the air. They had just participated in the Childhood Cancer Drive in honor of Kaycee Rae on Saturday behind the Wash Me Car Wash. From left to right, the employees are pilot Dave Marsh, flight nurse Jill Swope and flight paramedic Ben Crysler. Swaine of DJ's Biker Apparel and Accessories, Riders of Fire MC, Christine Poole, and several local businesses and organizations put on the event, which raised funds to help four Mohave County families of children who are fighting cancer. This includes the family of Kaycee Rae. Three bands played at the event, including Uncle Dirt Nap, Distraction and Triple Play.
Kingman Academy High School students helped with the event as part of their community service requirements. There was also a toy drive, which brings toys to Sunrise Hospital in Las Vegas and Phoenix Children's Hospital in Phoenix. Families in Mohave County must travel to Vegas or Phoenix to have routine cancer treatments performed, incurring high travel and lodging expenses over time. The event sought to help with those expenses as well as having an ultimate goal of partnering with a pediatric doctor and starting a pediatric cancer care unit here in Mohave County. Toy drives are ongoing, and toys can be donated at places including Wash Me Car Wash in Kingman, Bullhead City and Car Toyz in Lake Havasu. Call DJ's Biker Apparel at (928) 757-7955 for more information.