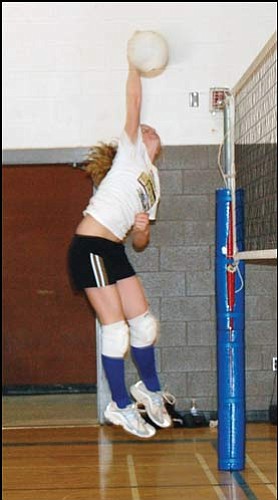 Originally Published: July 7, 2009 6 a.m.
KINGMAN - Attempting to gain any kind of an edge to build off last year's state tournament appearance, the Kingman High volleyball team has been working on its game with two days a week of open gym so far this summer. The Bulldogs participated in only camps in seasons past, which didn't begin until the end of July.
"It's been going good," KHS coach Kasie Juelfs said. "We've had 12 to 16 players show up, and that's a good start."
Juelfs is sensitive to the fact teenagers have a lot going on in the summer, and that's how she came up with the summer schedule. The open gyms are held Tuesdays from 4 to 5:30 p.m. and Wednesdays from 10:30 a.m. to noon.
"I didn't want to cram it down their throats," Juelfs said.
The open gyms are free of charge, and Juelfs said she just wants the girls to be consistent. She's pleased the older girls have been present so far over the summer.
"We've had mostly juniors and seniors," Juelfs said. "We need the younger players to come in, so when they come to our skills camps and tryouts, they won't be shell-shocked."
Juelfs lets the players play at the open gyms, but in an organized fashion.
"It's structured fun," she said.
KHS will host a Gold Medal Squared camp July 27-30 for eighth through 12th grades, and the KHS Volleyball camp will be Aug. 3-7, which includes a beginner's skills camp for sixth through eighth grades.
Juelfs is hopeful the summer schedule will provide the impetus for KHS to move past the first round of the state playoffs, which the Bulldogs made last season.
"We have the potential to keep up with the teams that play club volleyball," Juelfs said. "We're doing this because it's hard to get our kids to commit to a club."
Last year, Juelfs made it a point to drive into her players that though volleyball wasn't their main sport, they should want to win in all of their sports. Juelfs wants to see her girls shoot to be their best.
"For not being 'volleyball' players, they're good volleyball players," Juelfs said.
Though there's been a decent turnout for the open gyms, Juelfs is a typical coach when it comes to the number of participants.
"I wish there were more," Juelfs said. "But it is nice to have a group playing throughout the summer."