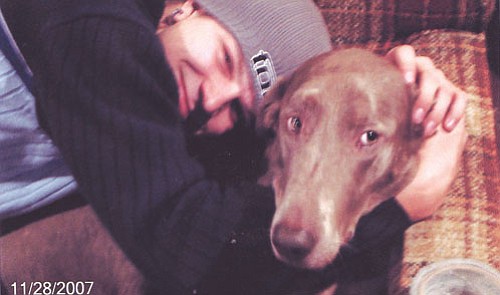 Originally Published: July 12, 2009 6 a.m.
KINGMAN - The last time Carol Schram saw her youngest son alive, she gave him a few dollars for assembling some shelves. He told her he was going to see a movie with some friends.
"I love you, Mom. Thanks for the money," he said before heading out the door.
It wasn't unusual for 17-year-old Donald to stay out late. Sometimes he forgot to call home to tell his mom. She hated that.
Schram isn't sure what her son did that night. Someone called around 11:30 p.m., but she didn't make it to the phone in time. She isn't sure if it was Donald; the caller didn't leave a message.
The next morning, a Sheriff's deputy was on her doorstep with two women - victim advocates who counsel families in times of grief.
"I didn't know what to think," Schram said. "I didn't realize those women were there for a reason."
Donald Schram was found dead June 26 after a night of partying with friends. A toxicology report is still pending, but the family has been told it is a case of suspected alcohol poisoning. An official report is unavailable from the Mohave Sheriff's Office because the case is still active.
The family said they've been told by a detective handling the case and several of Donald's friends that Donald had been drinking that night, to the point of falling over. He went to sleep in an RV parked in front of a house where the kids were hanging out. His friends found him unresponsive the next morning.
More than 200 kids showed up at Donald's wake at Sutton Memorial Funeral Home. The Schrams said they were touched by the outpouring of support from his friends. Several businesses, along with Donald's friends, raised $2,340 to help cover funeral expenses.
One of Donald's closest friends presented his mom with a letter where the teen pledged never to drink again. His mom was touched, but his family isn't sure everyone got the message.
"Some of the kids are pretty stupid about it," said Donald's sister, Maria Osterhout. "They're already out partying again."
Osterhout considered her brother to be her best friend. She has taken his death extremely hard. She alternates between laughing at memories of his antics before breaking into tears.
"I feel so alone now," she said.
Maria's husband, James, said he considered Donald less of a brother-in-law and more like a son. In the days after Donald died, James Osterhout got one of Donald's tattoos recreated on his right leg.
"I hope all his friends realize and look what happened," James said.
Donald was the last of five kids. A nine-year gap separated him from the next of his siblings. Because all his brothers and sisters were so much older, Carol said her son considered himself older, too.
"He always thought of himself as an adult," she said.
Donald started reading at the age of 4. He grew to be taller than his older brothers and his grin often belied a sense of mischievousness. He was suspended from school a few times and ultimately enrolled in PASS, an alternative school through Kingman High School, where he became known for his sense of humor.
He was diagnosed with attention deficit order as an adolescent and took medication that he said made him tired and feel out-of-sorts.
"He said 'Mom, I'm not going to take this anymore. I like being me,'" Carol Schram said.
His mom knew Donald drank on occasion and had experimented with marijuana. She even sat him down and showed him statistics about the dangers of drinking.
But he was a teenager, after all, and his family said most teenagers in Kingman don't see many other options for entertainment other than alcohol and drugs.
"They need a place for the kids to go," said James Osterhout. "A place with a pool table, a PlayStation, somewhere they can go to hang out. Out of 100 kids, you might get 40, but at least you got 40. I'll volunteer for the night shift."
Donald's sister and mom said the community is too focused on becoming a retirement community and is forgetting about the needs of younger residents.
"If you want to find a bank, you can find 20 of them," Maria said. "If you want a car wash, you can find 20 of them."
Carol Schram said she hopes to get together with other concerned mothers to figure out what can be done to steer kids away from drugs and alcohol. His family hopes that his death brings awareness to more than just those who knew him.
"It's not like elderly people dying of natural causes," said Maria Osterhout. "These are our future dying (of drugs and alcohol). What's there to live for if there is no future?"