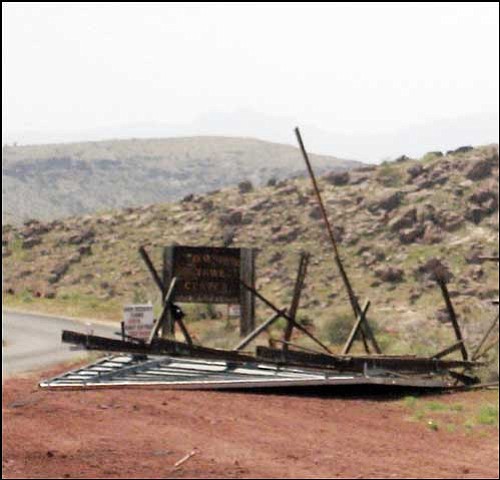 Originally Published: July 14, 2009 6 a.m.
KINGMAN - The Kingman Planning & Zoning Commission will discuss possible revisions to the city's off-premise signs and non-conforming sign use regulations this evening.
According to the existing zoning ordinance, off-premise billboards are currently only allowed in certain corridors along Interstate 40, Andy Devine Avenue and West Beale Street. Additionally, all billboards must be built within C-3 zoning only, require a conditional use permit, and cannot be located within 500 feet of an interstate ramp taper.
But despite these restrictions, a whole host of Kingman's historic billboards do not conform to the ordinance, since they already existed prior to the current ordinance taking effect. Some of these billboards are located in C-2 or I-1 zoning, while others are in the correct zoning, but on the wrong street, or simply lack a conditional use permit.
P&Z's interest in non-conforming billboards came about after one such billboard along Andy Devine Avenue collapsed during a particularly windy day in April. Following that incident, the billboard's owners attempted to restore the billboard to its old location, adding new steel casing to its weathered wooden supports.
However, that effort fell flat, so to speak, when in June the Board of Adjustments sided with the city's interpretation that once a non-conforming billboard is destroyed, it must come into compliance before it can be reinstalled.
Staff is now asking commissioners for further direction as to what the prime issue is that they would like researched regarding non-conforming billboards, and will provide commissioners with a detailed map of all such billboards currently in town.
Elsewhere on the agenda, commissioners will revisit a housecleaning amendment that will make several minor text changes to two sections of the city subdivision ordinance.
If approved, the amendment would change the terms "Preliminary Plan" and "City Planning Director" to the more accurate "Preliminary Plat" and "Development Services Director."
The meeting begins at 6 p.m. in the Council Chambers at 310 N. Fourth St. For full agenda details, go to www.cityofkingman.gov and look under "Agendas & Minutes."