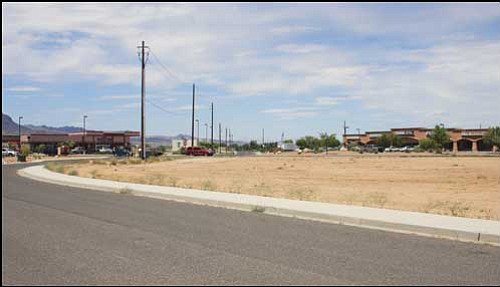 Originally Published: July 16, 2009 6 a.m.
KINGMAN - Two doctors from Kingman Regional Medical Center are hoping to provide local patients with a new venue for family medicine with a holistic focus.
Dr. Barbara Harris, M.D. and Dr. Keiko Fakhraie, D.O., will head up a new primary care facility slated for a 3.5-acre parcel of land directly across Mission Street from Mohave State Bank at 2202 Hualapai Mountain Road.
According to Dr. Harris, who has worked at the Cerbat Family Practice Center for five years, the new medical center will take a very different approach to medicine than that currently offered at the Cerbat and Golden Valley medical centers.
"Basically holistic medicine is the practice of just looking at the whole patient from the perspective of body, mind and spirit," she said.
"From my personal perspective, it means working within the patient's belief system is the most important thing in holistic medicine. If you have certain beliefs that affect your health, my job is to work with your beliefs."
While her background is in health and nutrition, Harris knows a wide range of alternative modalities for treating what ails her patients, and she is board certified in both family and holistic medicine.
She said her primary goal with the new center will be to provide patients with more than just the standard pills and platitudes most Western medical practitioners offer, placing a special emphasis on doctor-patient interaction.
"How many times have you heard patients say 'My doctor doesn't listen to me'?" she said. "Basic medicine, traditional medicine has always been 'Doctor, I have a stomach ache, Here's a pill, go home and rest.' Hasn't that been the way it's been the past 40 years?"
Instead of resorting immediately to pills, Harris said she and Fakhraie will be more inclined to work with the patient to determine underlying health and lifestyle issues that might be causing the stomach ache, then work with the patient to overcome those issues. She said they also might turn to herbal medications such as peppermint or ginger before turning to a more traditional analgesic, providing a similar settling effect with less stress on the body. Such practices, she said, are typical of the holistic, whole-body approach to medicine.
"Say you came to me because your neck hurt. I'm not just going to give you ice and tell you to take ibuprofen," Harris said. "I'm going to ask you about what you're doing during the day - what your work is about. Are you in front of a computer all day? Are you sleeping okay? What kind of pillow do you use? Are you exercising enough? Are you eating a highly refined diet, i.e. the Moon Pie and Mountain Dew diet? Are there ergonomic things I might need to address? Are there dietary things I can address? Are you drinking too much?
"That's holistic medicine," she concluded. "Teaching you to take care of yourself with what you have in front of you."
But while Harris and Fakhraie will be focusing on more than just prescribing pills, Harris was quick to note that she only intends to employ methods that have been thoroughly studied and researched, that have proven effective, and that she has been trained to understand. She does not plan to offer unproven, poorly researched "remedies" to patients, nor does she intend to capitalize off snake oil elixirs.
"If there's studies and good solid research behind something, I'm going to use it," she said. "But it's not something put out there for a quick buck; in other words, you're not going to find things for sale in our office. It's not about fads. If I am not trained in something, I'm not going to do it."
With a new center, Harris said she will be able to offer same-day appointments and walk-in services for established patients, something she has wanted to do for quite some time. The new center will likely be up within ten months to a year and will eventually employ up to five doctors, though Harris warned that she wants to avoid the "bus stop" feel of some of the city's busier medical centers.
"We're trying to stop the 'It's going to take a month to see me,'" she said. "That's my biggest thing, that's one of the main reasons I wanted this office."
In addition to the new holistic offerings, Harris said she will continue her work in internal medicine and geriatrics. Both doctors are currently accepting new patients in their existing office at 1739 E. Beverly Ave., Suite 201. For more information, or to inquire about becoming a patient, call (928) 692-3456.