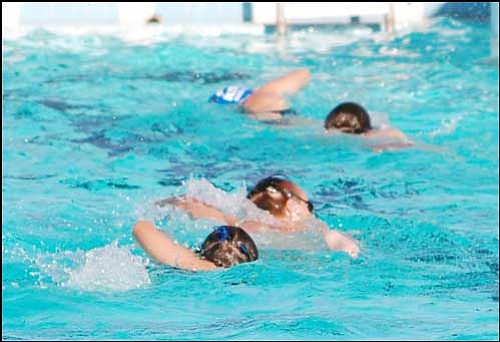 Originally Published: July 17, 2009 6 a.m.
KINGMAN - If last week's Kingman Invitational is any kind of an indication, Saturday and Sunday's Dick Tomlin Memorial Invitational hosted by the Kingman Dolphins Swim Team should have close to 300 swimmers for the two-day meet at Centennial Pool. Swimming will begin at 8 a.m. on both days.
The Dolphins won the boys meet in the Kingman Invitational with 457 points, outdistancing the Bullhead City Barracudas by 41-1/2 in the win. The girls finished second to Bullhead.
The senior swimmers for the Dolphins were at the 2009 Long Course Senior State Championships in Maryvale July 9 through Sunday. Shane Hall, Hunter Workman, Chris Workman and Patrick Tribbett all qualified for the state meet for KDST.
The Dolphins finished with 10 points at the state meet, as Shane Hall took 12th place in the 50-meter backstroke and Chris Workman was 12th in the 50 breaststroke.
"Each event had between 50 and 100 swimmers," Dolphins' coach Beth Mathe said.
"It was a great meet, and everyone worked hard and had great performances."
Because Tribbett celebrated his birthday this week, he had to participate as a 15-year-old, though he was still 14. He dropped time in all but one of the seven events he swam, including 11.95 seconds off of his 200-breaststroke time.
"It was fun, but kind of intimidating," Tribbett said.
"But it gave me a heads up of what it will be like next year."
After missing the Kingman Invitational because of the state meet, Tribbett is excited about staying home for the Tomlin Invitational.
"It's going to be a lot of fun," he said.
"I'm going to swim in a couple of events I don't usually swim."
Tribbett will add the 1,500 freestyle and the 400 individual medley to his repertoire this weekend, and he said the backstroke is his favorite.
"I find it easier," he said.
The Tomlin will help prepare the rest of the Dolphins, ages 8-and-under through 14, for their state meet, which will be held next weekend.