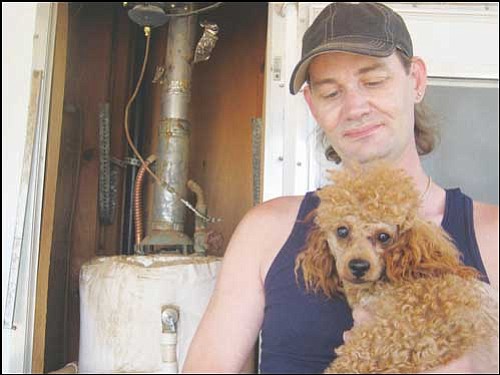 Originally Published: July 17, 2009 6 a.m.
KINGMAN - The two fire detectors didn't alert Mike Webb to the smoke billowing in between the ceiling and metal roof of his mother's mobile home, but his 1-1/2-year-old poodle knew something wasn't right.
Debra Zumwalt now credits her son's dog with saving the family's home - and their lives.
"I'm not a poodle person," Zumwalt said. "I'm more of a pekingese woman, but I love that dog."
The family was asleep in their mobile home in the 2100 block of Snavley Avenue Thursday morning when the fire began. The poodle, Rusty, and two of his puppies were also asleep in Webb's room.
When Rusty began scratching at the door around 2 a.m., Webb thought it was unusual the dog needed to go outside before morning. He didn't see any smoke until he opened his bedroom door.
Webb woke his mother and she began evacuating several dogs and birds from the home while her son investigated the source of the smoke.
They could tell the smoke was coming from the back of the house, about 10 feet from Webb's bedroom door, but they didn't see any flames.
Webb used the garden hose to soak the house, still unsure of the source of the smoke.
"When I touched the door of the hot water heater, it was hot," Webb said. "When I opened the door, the smoke poured out."
Zumwalt, meanwhile, was in the front of the house trying to unlock a front gate to let firefighters in.
"I was hunting for those keys by Braille," she said.
Because the smoke was contained between the home's ceiling and a metal roof, fire officials told the family the fire would have burned from the top down, meaning that by the time the family would have discovered the fire on their own, it most likely would have been too late.
"All my heritage is under this roof," Zumwalt said.
Zumwalt has suffered a number of misfortunes in her family over the years. Her mother died in 1986. Two years ago, Zumwalt, a hospice nurse, sat with her sister as she died from bladder cancer.
Her father suffered a stroke the same day Zumwalt's newborn grandson was airlifted to another hospital following a complicated pregnancy.
Both mother and baby are doing well now.
Amid all that, she's had to deal with her own health problems. Her husband was out of town when the fire occurred because of an illness in his own family.
Zumwalt called the poodle an angel for alerting the family and urged people to check their water heaters.
"I've been here 7-1/2 years and I thought I was on top of everything," she said.
"We have two smoke detectors, but I'm going to go buy me 10 more."