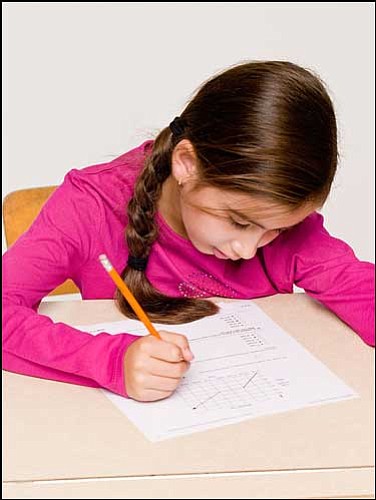 Originally Published: July 17, 2009 6 a.m.
KINGMAN - This year's Arizona's Instrument to Measure Standards (AIMS) exam results were released on Wednesday, and both Kingman Unified School District and Kingman Academy of Learning enjoyed nearly across-the-board improvement in all subject areas, with only a few notable exceptions.
However, KUSD continues to lag several points behind the statewide averages for most grade levels, while KAOL routinely meets or exceeds them, again with just a few exceptions for both districts.
By far the most profound gains were made at the Mt. Tipton School in Dolan Springs, which saw dramatic gains in the number of children who are meeting AIMS benchmarks over last year's numbers. The biggest gains in passing scores included fourth grade reading, which jumped 30 points; sixth grade math, which jumped 36 points; and eighth grade math, which rose an astounding 40 points. Eighth grade science also saw a huge gain in the percentage of students meeting standards, from 13 percent in 2008 to 50 percent in 2009, a jump of 37 percent.
But Mt. Tipton also posted some of the larger declines as well, including a 15-point drop in tenth grade math, and a 17-point drop in fifth grade math. These extremes may be in part due to the pre-kindergarten through twelfth grade school's fairly small size, where fewer students can cause a larger skew in percentages.
On average, however, KUSD rose in every single subject for every single grade, though not necessarily for every single school. Many of the gains were fairly modest - seventh grade reading, for example, rose just 1 percent from 64 to 65 - but quite a few district-wide gains were in the double digits.
District average gains of 10 percent or more included fourth grade reading, writing and science; fifth grade writing; sixth grade math, reading and writing; seventh grade writing; eighth grade writing and science; and tenth grade science.
KAOL's gains were more mixed, with most areas seeing single-digit gains. A handful of grade levels saw double-digit gains in certain subjects, while a handful of others saw slight declines from 2008 levels.
All told, however, KAOL's scores outpaced the state averages for nearly every metric, while KUSD's schools continue to lag behind, particularly at higher grade levels. This is in part due to the fact that AIMS scores rose statewide, as well as locally.
Sixth grade writing, eighth grade reading and tenth grade writing were the only AIMS metrics that saw no local schools meet or exceed the statewide average. In many other metrics, KAOL was the only school to meet or exceed the state average. These include sixth grade reading; seventh grade math, reading and writing; eighth grade writing and science; and tenth grade math and reading.
The only metric where KUSD met the state average and KAOL did not was tenth grade science, where 35 percent of KUSD students met standards, compared to only 24 percent from KAOL and 34 percent statewide.
Third- through eighth-grade students and high school sophomores are required to take the AIMS exam each spring. Elementary students are not held back if they fail the exam, but high school students must pass the math, reading and writing sections of AIMS to get a diploma.
Over the coming weeks, The Miner will be taking a closer look at the AIMS results of each school in the area, from both districts. To look up the AIMS results for your child's school, visit http://www.azcentral.com/news/datacenter/aims09.html.