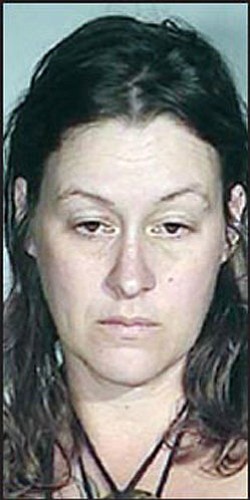 Originally Published: July 24, 2009 6 a.m.
KINGMAN - Charges have been dismissed against a Golden Valley woman accused of shooting her boyfriend in the stomach.
Stephanie Lynn Aanderud was charged with two felony counts of aggravated assault after she shot her boyfriend, Bart Louis Richardson, during a confrontation at their home in Golden Valley May 20. Richardson was airlifted in critical condition to Sunrise Hospital in Las Vegas. He has since recovered.
Aanderud was charged with two counts of felony aggravated assault. Charges were dropped after prosecutors were unable to make contact with the victim.
In a statement to police, Aanderud said she and Richardson had been fighting throughout the day of the attack. When he wanted to turn in for the night and she didn't, Aanderud said Richardson hit her in the jaw.
After arguing some more, Aanderud said Richardson broke a rifle over her head. Aanderud said she armed herself because Richardson was also armed. The pair physically struggled again and Aanderud said she was in a chokehold when the gun went off and struck Richardson.
Several guns were found in the home after police responded to the scene.
Aanderud fled the scene after the shooting and she had been sought on a temporary warrant from the Mohave County Sheriff's Office. Aanderud made a court appearance before the warrant was processed and was released on her own recognizance by Judge John Taylor before charges were officially dropped.