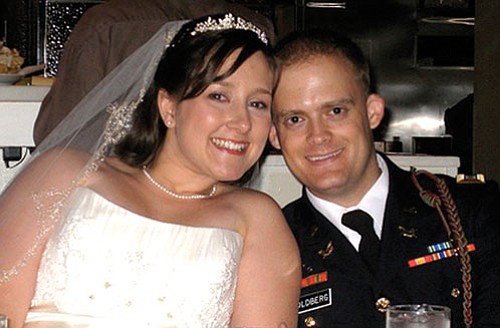 Originally Published: July 26, 2009 6 a.m.
Hilarie Jennings and Cpt. Bryan Goldberg were married June 13, 2009, at the MGM Grand Las Vegas Terraza. The bride is the daughter of Charles and Kathleen Jennings of St. Louis. The groom is the son of Jeff and Andra Goldberg of Kingman.
Presented in marriage by her father, the bride was attended by her sisters, Martha and Katie Jennings. Ryan Fruhwirth of Bullhead City was best man, and Cpt. Erik Burris, a groomsman. Ushers were Captain Daniel Travis, Patrick Hoffman and John Thurston. A reception was held at the Wolfgang Puck Bar and Grill following the wedding.
The bride is a graduate of the University of Missouri - Columbia and Columbia College, where she received a bachelor's degree in History and an associate's degree in Nursing, respectively. She has accepted a position in the ICU at Geary Community Hospital in Junction City, Kan.
The groom is a 2001 graduate of Kingman High School and also from Northern Arizona University and Texas Tech University School of Law where he received a bachelor's degree in Criminal Justice and a Doctorate of Jurisprudence, respectively. He is currently serving in the Army as a judge advocate with the 1st Infantry Division stationed at Fort Riley, Kan.
The newlyweds will reside in Manhattan, Kan.