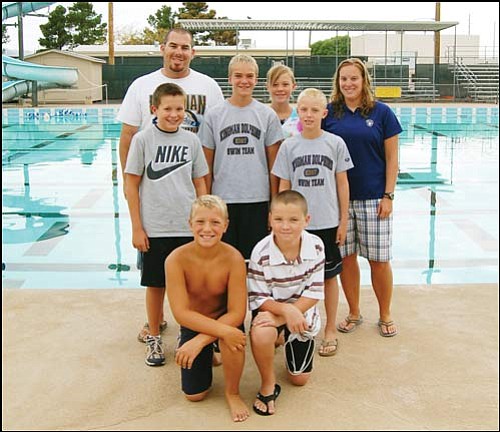 Originally Published: July 30, 2009 6 a.m.
KINGMAN - Out of the 31 events swam by members of the Kingman Dolphins Swim Team at the 2009 Arizona Swimming Long Course Age Group State Championships in Tempe that ended Sunday, the Dolphins advanced to the finals in 15 of them.
"They swam their minds out," coach Michael Perrine said. "Everyone had a personal best as well in at least one event."
Patrick Webb led the charge for the Dolphins by advancing to the finals in all six of his events, including a third-place finish in the boys 13-14 1,500-meter freestyle. Webb also became the Dolphins' record-holder in four events with his times at the meet. Webb added his name on the Dolphins' record board in the 200, 800 and 1,500 freestyles and the 400 individual medley.
Jacob Miyauchi made it to the finals in four of his six events, and his best finish was in the boys 11-12 1,500 freestyle at 10th place.
Brady Cowin took 10th and 12th in the boys 10-and-under 50 and 100 backstrokes, respectively. Cowin's swim in the 50 backstroke broke a 25-year-old Dolphins record. Cowin's time of 41.75 seconds put him ahead of Kevin Foley's 42.04, set in 1984.
Cowin came close to qualifying a Far Western time, and he said getting to that event is a goal of his. "I'll have to keep coming to practice and take some lessons to get my stroke down," he said.
Alek Dunton also reached two finals in the boys U10. Dunton took 11th in the 100 butterfly and 16th in the 50 butterfly. Dunton moves up a division and has his work cut out for him.
"Next year I age up," Dunton said. "So my goal is to qualify for state again next year."
Kael Juelfs finished 16th in the U10 100 breaststroke, and he also set a Dolphins record. Juelfs bested Lance Martin's 2007 time of 1:52.29 by 2.24 with a swim of 1:50.05. Juelfs met all three of his goals he had for the event.
"I wanted to go fast, beat the record and get into the finals," he said.
Though Juelfs was pleased with his 100 breaststroke, he'd like to improve in other areas. "There are other races where I know I have to get better," he said.
Alexis Bathauer offered the Dolphins a couple of more opportunities to reach the finals, but Bathauer fell ill the day of the meet and could not compete. Anne Bathauer, her mother, said they hope Alexis will be able to swim in this weekend's Cottonwood Invitational.
The Cottonwood meet has a dual function for the Dolphins. It winds down the long course summer season, and gives those Dolphins who will stay with the team their first taste back in short-course racing. Long-course events use the length of the pool, whereas short-course uses the width.