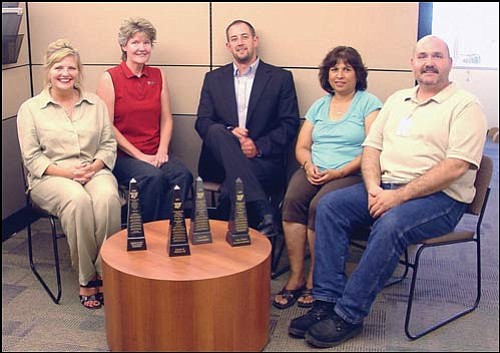 Originally Published: July 30, 2009 6 a.m.
KINGMAN - The Mohave County Procurement Department has won its fifth straight Annual Achievement of Excellence in Procurement Award from the National Purchasing Institute.
NPI announced the award on July 7. The department will receive the award on Sept. 14 in Scottsdale at the NPI annual conference.
Mohave County is one of "only 31 counties out of the 3,141 counties nationally to receive this prestigious award for at least five years," said Procurement Manager Travis Lingenfelter, "which is impressive when you consider that it places Mohave County's Procurement Department into the top 1 percent of all county procurement agencies in the United States.
"I couldn't be more proud of my staff," Lingenfelter said. "Since July of last year, this small department, with the continued support and confidence of the Board of Supervisors and County Manager Ron Walker, has been able to save the taxpayers of Mohave County over $3.4 million, which can be used to bolster existing programs and services and assist the Mohave County through tight budget times."
Although the criteria that the award is based on changes every year, Mohave County has consistently scored well, he said. "AEP Award criteria are not static. Items we may have scored five or 10 points on last year may be gone this year with new criteria to deal with. These criteria are dynamic and are modified annually in order to reflect current changes in the public procurement profession and in the governmental arena.
"By winning this honor for five straight years, we are showing the citizens of Mohave County that we benchmark our performance on professional criteria and we are consistently ranked in the top one percent of counties nationwide," Lingenfelter said. "Only two other counties in Arizona earned the AEP Award for 2009 - Pima and Cochise. The AEP is an opportunity to compete and continuously improve, not against other public procurement agencies, but against a set of internationally recognized professional standards that define public procurement excellence. Some individual procurement agencies receiving the AEP, such as Miami-Dade County, Fla., or Los Angeles County, Calif., have over 100 procurement employees."
More like this story