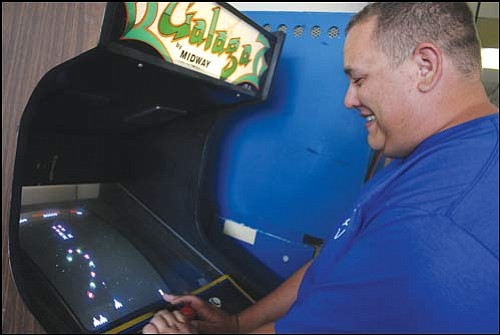 Originally Published: July 30, 2009 6 a.m.
KINGMAN - Over the next month, most of Kingman's children will start strapping on backpacks and heading back to school. But before that happens, Adam Arendt would like to make just one request of them: Please Insert Coin.
Arendt is the proprietor of Game On Arcade, a brand-new, old-fashioned video arcade located in the Kingman Gateway Shopping Center at 1949 E. Beverly Ave., Suite 4, across the parking lot from the Staples store. Equipped with about 25 vintage arcade machines ranging from the 1981 classic "Galaga" to 1992's infamous "Mortal Kombat," the arcade is designed to cater to both children and parents alike, but Arendt said his primary goal is to give the former a place they can call their own.
"What gave us the idea is, everybody says there's nothing to do for kids," Arendt said. "We want this to be their place, and we want to keep the costs down so that everybody can come."
To do this, Arendt said the machines have all been calibrated to take tokens rather than quarters.
The tokens are then sold in rolls of 40 apiece, at a cost of $2 per roll, or $5 for three rolls, meaning a single credit only costs a nickel. To meet his overhead costs and the cost of buying new machines, Arendt said he plans to introduce a $3 door charge, but only after kids have had a chance to check the place out. "We want to get at least three new pieces of machinery every month," he said. "But the $3 door charge isn't going to start for at least a couple of weeks."
As for what machines he's looking to get, Arendt said it will be entirely up to his clientele. Suggestion forms for new arcade machines will be available at the front counter for kids to fill out, and even the arcade's empty jukebox will eventually be filled with music specifically requested by the kids of Kingman.
"This place is for the kids, by the kids," said Arendt's business partner and security assistant, Brian Harter. "There's going to be suggestion forms for everything. We're just here to make sure nobody gets hurt." Arendt was already being deluged with game requests prior to his opening night Wednesday, with dancing game "Dance Dance Revolution" among the top picks. He said he intends to follow through on as many requests as possible, hunting down used machines and parts from across the Southwest, and switching out those machines that are poorly received. "What has coins in it stays, what doesn't, goes," Harter said. "It's not a matter of what we want, it's about what the kids want."
Arendt admitted that it's going to be at least a little while before the arcade is fully established. Over the next several weeks, he said he intends on adding air hockey and foosball tables, as well as food and drink vending machines, change machines and picnic tables for parents to sit.
But even if parents can't accompany their kids to the arcade, they'll never be too far away. Hartner said he's working on adding a 24-hour, four-camera security system that will cover the entire interior of the arcade, with footage streaming to the arcade's Web site, www.gameonarcadeaz.com, allowing parents to know where their kids are at all times, even from their home or office.
As the arcade evolves, Arendt said he plans to eventually host tournaments, occasionally bringing in a PlayStation 3 or Xbox 360 to host four-player sessions of "Madden NFL" and other competitive sports and fighting games. He also hopes to host a live DJ at least once each month. "There's lots and lots of stuff we want" he said. "It's gonna go week by week."
Game On Arcade is currently open, with hours running from 10 a.m. to 10 p.m. Sunday through Thursday and 10 a.m. to 11 p.m. Friday and Saturday. During the school year, however, Arendt will switch his opening time to 2 p.m. on Monday through Thursday, with his closing time switching to 9 p.m. on Sunday.
For more information or to make a game request, call (928) 757-GAME.