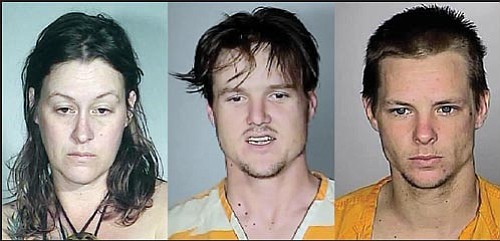 Originally Published: June 1, 2009 6 a.m.
KINGMAN - The Mohave County Sheriff's Office is still working on two shootings, a stabbing and a bomb threat at the county courthouse earlier this month.
The office has closed the book on a shooting incident on May 10. The County Attorney's Office has decided not to press charges against Aaron Andrew Smith, 36, of Kingman, or Robert Frank Owings, 71, of Kingman.
Smith was hiking with his family about 12 miles east of Interstate 40 near the Griffith Road interchange when shots were fired at him and his family.
Smith returned fire and told deputies that he believed he hit someone. Deputies found Owings lying on the ground with a gunshot wound to his leg.
Deputies are still looking for Bennie Bernard Masters, 30, of Kingman.
Masters is wanted in connection with the stabbing of Lloyd Willard McGowan, 51, of Kingman on May 15. McGowan was riding his bicycle home after visiting a friend and stopped to talk with Masters near Quail Lane and Eagle Drive. Masters suddenly pushed him off his bike and started stabbing him, according to the MCSO.
McGowan is currently listed in stable condition at Sunrise Medical Center in Las Vegas.
Masters is considered dangerous and the MCSO is warning the public not to approach him.
Anyone with information is asked to contact MCSO, at (928) 753-0753 or Silent Witness at (888) 227-8780.
A Golden Valley woman wanted for questioning in connection with a shooting on May 20 is working with MCSO and the County Attorney's Office.
According to the MCSO, Stephanie Lynn Aanderud, 41, of Golden Valley contacted both offices last week and appeared before a judge on Thursday. She has been released on her own recognizance. It is currently unknown what charges have been filed against Aanderud. The county attorney handling the case was in court Friday and not available for comment.
Deputies believe Aanderud shot boyfriend Bart Louis Richardson, 45, of Golden Valley the night of May 20 in the 1400 block of Don Luis Road in Golden Valley with a 20-gauge shotgun after an argument and left on foot, carrying the shotgun.
The MCSO is still investigating a second shooting in Golden Valley involving a man who was shot while allegedly trying to burglarize a home on May 16 in the 4900 block of Stuart Mountain.
The homeowner shot Keith Allen Tillman, 24, after he allegedly tried to enter the home.
According to MCSO, Tillman has been released from a Las Vegas hospital. MCSO is still investigating the incident.
MCSO is also investigating a bomb threat May 22 at the Mohave County Superior Court Building on Spring Street in Kingman.
MCSO Public Information Officer Trish Carter said the office does not have any new leads on the incident but is still working the case.
The Clerk of Court's Office received a call at 3 p.m. on May 22 from a man claiming that a bomb was in the courthouse. Court security immediately evacuated the building and called MCSO.
Kingman Police Department was called in to help close off Spring Street from Third to Fifth streets.
KPD's Bomb Squad was called in and arrived on scene around 4 p.m. The squad cleared the building for reentry by 4:30 p.m. A bomb was not located in the building.