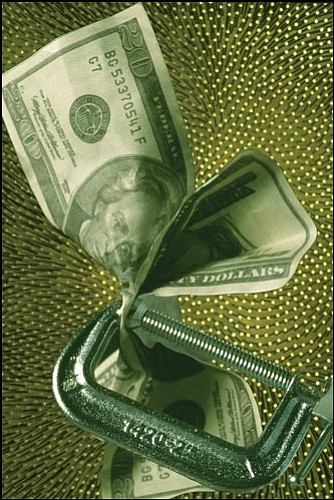 Originally Published: June 10, 2009 6 a.m.
KINGMAN - With just 20 days remaining before the start of the 2009-2010 fiscal year, Arizona Gov. Jan Brewer has yet to reach a compromise with Republican state legislators, who approved a budget last week laden with spending cuts, borrowing, special-purpose fund raids and withholding of shared revenues, all in hopes of closing a budget gap estimated to be between $3 and $4 billion, depending on who you ask.
The Legislature's budget has drawn strong opposition from the Arizona League of Cities and Towns, primarily for a pair of provisions that would cut approximately $42 million of the cities' share of the state vehicle license tax, and would institute a three-year moratorium on the collection of all impact fee revenues. Prior to the Legislature's passage of the budget, the League's executive committee unanimously adopted a resolution in support of an alternative budget proposal from Brewer, which calls for a temporary, one-percent statewide sales tax increase in order to limit some of the deeper cuts proposed for the state's higher education funds.
But while Brewer's proposal proved a non-starter for her Republican brethren in the Legislature, it remains unclear whether the budget passed last week will make it to Brewer's desk intact. Legislators have held off on sending the budget bills to Brewer right away for fear the Governor will veto them, and they have instead expressed a desire to continue negotiations with her.
Brewer, meanwhile, spent much of the day Tuesday meeting with various "state budget stakeholders" to discuss the impacts the Legislature's budget would have on K-12 and higher education, health and human services, public safety, transportation and local governments.
According to local officials, the budget's impact on cities and towns could be severe if it is passed in its current form. According to City Manager Jack Kramer, the cuts to the city's share of the vehicle license tax alone would cost the city nearly $300,000 in lost revenues, forcing the city to revisit its balanced budget and find new places to cut.
"If this would happen, then our balanced budget would have us $300,000 in the hole, just because they said so," Kramer said. "That would be 80 percent of our (street) chip sealing budget - that's the best analogy I can give you, because I don't know where else to take it from."
The city's chip seal program, which goes toward preventing the formation of potholes, is already suffering from deep cuts due to a sharp decline in receipts from the state's gasoline tax, which is shared with cities through the Highway User Revenue Fund. But according to Financial Services Director Coral Loyd, that problem pales in comparison to the fiscal nightmare that could occur if the city were forced to place a three-year moratorium on impact fees.
Loyd pointed to the recent groundbreaking of the city's Hilltop Wastewater Treatment Plant, which is being financed through a $30 million loan from the state Water Infrastructure Finance Authority.
Of that $30 million, Loyd said roughly 40 percent, or $12.5 million, is to be paid back using impact fees from current and future growth.
If the state were to approve the moratorium, however, the city would be faced with finding some other way to make the $1.7 million annual loan payments.
"We'd have to raise the rate for the monthly users to pay for the project - we can't default on the loan," Loyd said. "You'd have to raise (sewer usage) rates by a minimum of $10 more a month, basically."
Loyd noted that, in negotiating the loan, the City Council already approved raising the average wastewater rate from $14 to $21 a month. To raise the average an extra $10 or more would be devastating to a populace already struggling in the midst of a painful recession.
Kramer and Loyd also noted the League's continuing concerns over whether the vehicle license and impact fee budget provisions are actually legal. An opinion obtained by the League from the Perkins Coie law firm out of Phoenix maintains that, because the Legislature is directing cities to allocate a portion of their vehicle license fees directly to local public school districts, it is effectively approving a net increase in state revenue.
The state Constitution, however, requires that any net increase in state revenues must receive a two-thirds supermajority vote in both houses of the Legislature, whereas the current budget plan only received a simple majority, meeting overwhelming Democratic opposition as well as a handful of Republican defectors.
"What they're asking us to do right now may still be illegal," Kramer said. "State statute requires they distribute the (vehicle license) money."
Kramer said he believed litigation against the state would be almost certain, should the budget pass in its current iteration. He said he would prefer to see Brewer's proposal passed because it has less of a direct effect on municipal budgets, though he admitted it still wasn't particularly desirable, since none of the cities would receive any extra revenue, despite the new burden on taxpayers.
"It's probably better for the cities at this point," Kramer said. "But it's a double-edged sword."