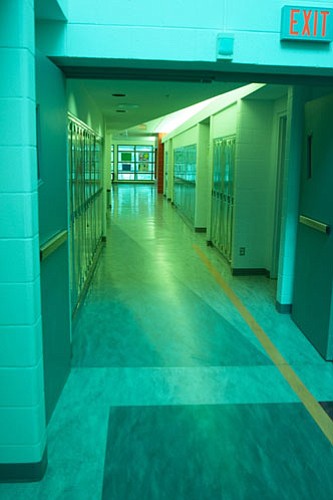 Originally Published: June 14, 2009 6 a.m.
KINGMAN - The interim administrator who replaced Principal Brad Ellico at Cedar Hills School has resigned.
Emmett Brown was named to the position in March after Ellico was placed on non-disciplinary administrative leave. Brown confirmed that he left the position voluntarily earlier this week but refused further comment.
Superintendent Mike File said he knew Brown had been "frustrated and angry" in the position but could not comment further on the resignation. File said he had not received a formal resignation from Brown but added that any formal resignation would be submitted to the school board and not the superintendent's office.
Board President Laurie Lawson is on vacation and was not available for immediate comment. File said the school board would be responsible for appointing a new administrator. The next scheduled board meeting is set for July 14, although the board could choose to meet sooner than that.
Parents say Brown's resignation follows months of their own dissatisfaction with the school board, including lack of communication with parents and allegations of open meeting violations.
A complaint against the school board for violating the open meetings law has been filed with the state's Attorney General's Office.
The law mandates that public meetings be open and the public regularly informed of board actions.
Ellen Kelley, whose daughter has been in Cedar Hills for two years, said parents have gotten neither from the current board.
"If things don't change, I'm going to have to pull her out and put her in another school and I don't want to do that," Kelley said. "I volunteer there. I have a vested interest in the school."
Some have gone as far as to suggest a recall election. Any newly elected board member can be recalled six months after being sworn in, making the board eligible for recall in July.
Brown replaced Ellico after Ellico was suspended pending an investigation by the Mohave County Attorney's Office that was initiated by the school board. No specific reason was given for the investigation. The suspension followed an incident in February where a Cedar Hills teacher offered a 12-year-old student a 9mm handgun as a reward for good behavior.
The teacher, Germaine Brockett, had the student ask his parents if he could accept the gift. The parents were upset by the situation and contacted Ellico. The teacher later apologized for her actions in a letter to the parents.
The gun was never brought to school and no charges were filed against the teacher. Ellico has refused comment on the matter.
Ellico was suspended March 13 with pay. Brown had been receiving $8,000 a month plus $1,000 for expenses along with benefits. It was the third interim assignment for Brown, who had previously served as interim superintendent for Peach Springs and Tuba City unified school districts.