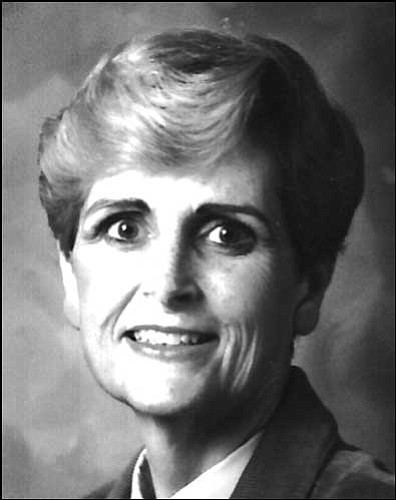 Originally Published: June 17, 2009 6 a.m.
Barbara Ann Lantz, 68, of Kingman died Sunday, June 14, 2009, in Kingman. She was born April 12, 1941, in Binghamton, N.Y., and came to Kingman 54 years ago from Phoenix. She graduated from Mohave County Union High School in 1959.
Barbara was a member of St. Johns United Methodist Church. She was a life member of Beta Sigma Phi, active since 1981 in Kingman and Torrejon Airbase, Madrid, Spain. She was currently a member of Xi Beta Phi and had attained the Laureate Degree and Order of the Rose, and Silver Circle honors. She was a Majority Member of the International Order of Rainbow for Girls, and Past Worthy Advisor of Kingman Chapter No. 24. Barbara served on the KAAP Board of Directors in 1992-93.
Barbara was preceded in death by her father, H.K. Young; and brothers, Gary and Greg. She is survived by her husband, James Lantz of Kingman; her mother, Elizabeth Young of Kingman; two sons, Jeff Diggs of Kingman and Brandon Diggs of Princeton, Minn.; her daughter, Darla Proferes; two stepsons, Patrick Lantz and Christopher Lantz, both of Las Vegas; and Sheree Lantz of Okinawa, Japan.
Visitation will be from 4-7 p.m. on Thursday, June 18, at Sutton Memorial Funeral Home, 1701 Sycamore Ave., and the service will be at 1 p.m. on Friday, June 19, also at Sutton. Burial will be at Mountain View Cemetery, 1301 Stockton Hill Road.