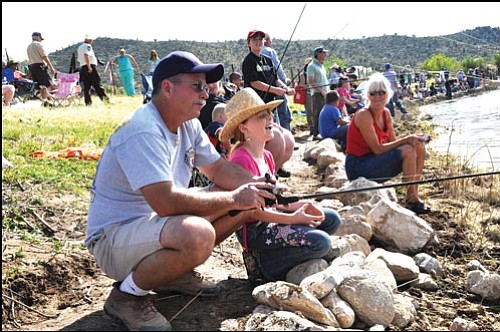 Originally Published: June 17, 2009 6 a.m.
KINGMAN - It was the first year that the Kingman Elks Lodge No. 468 conducted what is going to be the annual "Fishing For Smiles" kids fishing event, and from all reports, it was successful beyond anyone's wildest dreams.
The event was held Saturday morning at the Yellow Pines Ranch on the east side of the Hualapai Mountains.
All total, 145 smiling kids ranging from 2-17 years old tested their luck and skill on some of the over 600 channel catfish that weighed up to 5 pounds that had been stocked in the pond at the ranch courtesy of the Elks lodge.
The ranch is owned by the Fisher family who graciously donated the use of their pond to the Elks lodge for this event. The Fishers were all smiles as they watched the happy kids catch the hungry catfish during the day.
A number of volunteers from the Elks lodge, Mohave Sportsman Club, off-duty city of Kingman employees and Pinion Pines Fire Department were on hand to make sure the kids had a safe and fun time.
Joe Hererro, a member of the MSC, probably had the toughest job out there. He was in charge of filleting the fish that were brought in.
Hererro didn't know how many fish he filleted during the five-hour event, but almost 100 fish were brought to the scales.
There was also a Kasting Kids event held, where kids demonstrated three different methods of lures or bait presentations by flipping, pitching or casting to a target.
That event was run by Nick Kaiser and Jimmy Hererro, with Jake Kaiser and Johnny Herrero assisting.
When it was over, the participants and their families were treated to an all-you-could-eat hamburger and hotdog meal courtesy of the Elks.
Fishing poles were also given to every child who participated.
Contests were held with children ages 2-8 in the Juniors Division, while those 9-18 were in the Senior Division.
The winners of the Kasting Kids event in the Juniors Division were: first place, Kristin Kile; and second place, Sarah Fiddler.
Kasting Kids winners in the Senior Division were: first place, Garrett Newberry; and second place, Kaci Kay, who won in a cast-off with Johnny Lambert.
The winners of the big fish trophies in the Juniors Division included Kaitlin Kile who took third place. Madelynn Pace took second place, while Laines Barnes took big fish honors.
Winner of the heaviest stringer award for the Juniors Division was Makayla Alanis. Joshua Kulke won second place, while Laines Barnes took third place.
In the Senior Division, the big fish honors went to Madelyn Fernandez, who weighed in a lunker channel catfish that weighed 5.05 pounds. Second place went to Sierra Stettner, who checked in a catfish that weighed 4.95 pounds.
The winner of the heaviest stringer award in the Senior Division was Sierra Stettner, who had a three-fish limit that weighed 8.80 pounds.
Second place was won by Jesus Barraza, who had three fish that weighed 8.20 pounds, while Peter Kile checked in three fish that weighed 7.15 pounds to garner third place.
Bob Kay, along with Jerry Grimes and Bill Shilling, were the Elks members who made this event happen.
Kay was excited as he talked about all the smiles and laughing that was heard as kids fished.
"I think everyone had a great time," Kay said. "We know we've got a few glitches to work out before we do this again next year, but I got to say that we are 95 percent certain this will become an annual event."