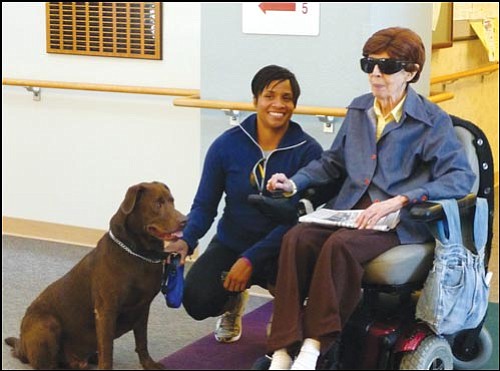 Originally Published: June 17, 2009 6 a.m.
KINGMAN - When Keela Carr of Apopka, Fla., set out to walk across the country last year, her goal was simple - to find as many U.S. veterans as she could, and to personally thank them for their service.
"I was at home one day, training, and I said, 'It would be so great to meet as many veterans as I can and say 'Thank you,'" Carr said. "'I should walk to D.C.'" From May 26 through Aug. 11, 2008, that's just what the 35-year-old athletic trainer did, walking all the way from Barstow, Calif., to Arlington National Cemetery, and meeting hundreds of brave men and women along the way.
As she walked, Carr drew coverage from national news agencies, including Fox News and the Washington Times, and she attracted a number of veterans' advocates, many surprised to see a civilian with no military experience or military family going to such lengths to show her appreciation.
"It was a grassroots effort and something very personal for me," Carr said. "Last year, I came into this thing really naïve. By the time I got to Washington D.C., I was slammed, just inundated with information; people meeting me, putting things in my hand, 'Did you know this, did you know that?'"
Some of those people were attorneys who urged Carr to set up her own non-profit organization to better focus her efforts toward a cause. Carr went on to establish A Thousand Thanks, an organization dedicated "to bring about true change in the care of the American Veteran," particularly the thousands of vets who return from overseas and wind up homeless.
"The VA is a wonderful setup, but they're slammed, and we have so many veterans - they're not just old, grizzled guys - they're young guys, young men and women, who are falling through the cracks," Carr said.
"For some people, it's very difficult to reacclimate (to civilian life) ... The whole family has to adjust, and it's a very difficult thing. I want to be there, and I want to help my fellow countrymen and women."
This past Sunday, Carr began a new journey across the U.S., following a path similar to last year's.
This time, however, Carr is hoping to show her appreciation in a new way, by raising $300,000 to go toward developing a transitional facility for homeless veterans.
"Right now, we're looking at three different sites," she said. "We've got builders already standing by, waiting."
Carr already has some local support from Charles Davis, a Vietnam vet himself and the CEO of E Finance Inc., a Kingman-based online RV financing company he said is among the largest in the world.
Davis admits he was spared much of the war's horrors confined to a boat, but having visited a number of VA hospitals around the state, he said he felt compelled to help Carr in her cause.
"When I go to Prescott or down to Phoenix and see those guys (in the VA hospitals), they look like they haven't had a square meal in a month, you know?" Davis said. "There's a lot of guys who didn't do so well, and that's my commitment in this deal, helping the ones who didn't do so well."
To do so, Davis is providing a trailer plastered with the name and Web address of Carr's non-profit, which he plans to present to Carr when she comes through Kingman later this week.
"She literally did this in the back of an Explorer last year, slept in her car," Davis said.
"I said I'd pay for the gas for somebody to go, but I ended up buying a trailer, rigging it up, putting an air conditioner on there, generator, and buying a truck to pull it."
Once Carr picks up the trailer, Davis said he intends on joining her entourage, following her all the way to Washington. While he said he intends on riding in the trailer for most of the 2,700-mile trip, the 65-year-old does intend to bring his bicycle along and ride it for at least 10 miles a day until the journey's end. "I decided it'd be an ideal time for me to lose a little weight," he said.
By Monday afternoon, Carr and her support team were already past Barstow, and predicted they would pass through Ft. Irwin, Calif., by nightfall.
At the rate she was going, Carr said she could be in Kingman as early as Thursday evening or Friday morning at the latest.
"We're going to bypass Bullhead City, and once we hit Needles, we're going to go right for Kingman," she said. "We're on Route 66 right now, so we're probably going to ride Route 66 all the way."
For more information on Carr's cross-country walk for homeless veterans, or to make a donation to the cause, visit her non-profit's Web site at www.athousandthanks.us. If you're interested in making a material donation of bottled water or sports drinks, e-mail Carr at keelacarr@yahoo.com to set up a meeting location along her route.