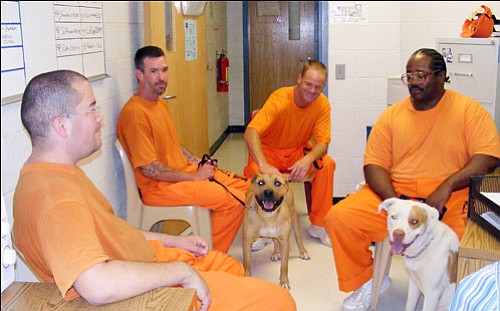 Originally Published: June 21, 2009 6 a.m.
KINGMAN - There's a place nearby where you can find some of the best-trained dogs in the county. A place where the trainers work one-on-one with their dogs nearly 24 hours a day, seven days a week. And it's an unusual place for dog training program - the Arizona State Prison-Kingman located off of Interstate 40 in Golden Valley.
The prison collaborated with Mohave Companion Animal Rescue Efforts Network almost a year ago to partner inmates with unwanted dogs local organizations had rescued. At one time the prison had partnered with another animal rescue group with Friends from the Pen. The program was shut down for a short while before CARENet picked it up.
The Miner was invited to visit the prison last month as a new group of dogs entered the program. The Miner hopes to follow this class of dogs and inmates through the entire six-week training program.
At first, it was hard to tell who was more excited about the start of the program, the inmates or the dogs.
It is a special privilege to be picked for the Friends from the Pen program, said Rhonda Gamache, who is in charge of the program at the prison. Inmates must fill out an application and there is a long waiting list to get in.
Only 10 inmates are chosen for the program.
These inmates live in two special pods - small rooms separated from the other inmates in the prison.
The dogs are collected from local animal shelters and rescue agencies. Some of the dogs are plucked from county animal shelters just before they are slated to be euthanized.
The dogs are evaluated for the program, spayed or neutered, vaccinated and receive all their shots and any other medical attention necessary before being transported to the prison.
"Sometimes it's hard to tell who's more excited, the inmates or the dogs," said Warden Darla Elliot as she unlocked a gate to allow the inmates into the yard where the dogs would be delivered.
"Usually when we get the new dogs they're jumping all over the inmates and each other," said Mark Hill, south yard manager. "It's an entirely different story when they leave."
"Sometimes you don't know what to expect," said one inmate. As the group crowded around a sallyport waiting for Roy Hayes from CARENet, Cherie Da Lynn from For the Luv of Paws and a representative from the Western Arizona Humane Society unloaded the dogs from the vehicles.
Each dog is paired with two inmates, who feed, walk, clean up after and train them for about six weeks. The only time the dogs and the inmates are separated is when the inmates go to eat or if an inmate has to go to the infirmary.
"Ha, you're going to have fun training that one. He's still a puppy," inmate Randy Barrow said as another inmate played with a small, skittish dog.
Randall immediately started teaching his white and tan dog to sit. Dog trainer Roy Hayes instructs the inmates on how to teach the dogs basic commands such as how to walk on a leash, heel, sit and stay.
"Hey, that's a nice looking one," said an inmate from another part of the prison as he and his yard mates watched the procession of dogs and inmates toting 50-pound bags of dog food, huge boxes of dog biscuits, bedding and other necessities troop past. Local animal rescue shelters donate the kibble and biscuits. Each dog gets its own kennel in the pods. The inmates divvy up the food and biscuits evenly among the dogs.
The inmates learn patience, discipline, how to take care of someone other than themselves and how to react calmly when things don't go quite the way they expected, Hill said.
And with dogs they often do.
"You have to learn to watch all their moves," Barrow said later as he sat with his dog, dog-training partner and two other inmates and their dog in an office. "You've got to got to watch their body language. A growl like that doesn't mean anything, but when they start to stiffen up ..." he paused to give a sharp tug on the leash to catch his dog's attention as it started to lock eyes with the other dog in the office.
"Each new dog is a new challenge," Barrow said. He's worked with four or five dogs since entering the program. Each dog has been different and required different approaches.
"(Working with the dogs) teaches a great deal of respect. It changes your behavior," he said. You can't be harsh with a dog. You can't yell at them or they'll start to absorb those traits. And those aren't traits that people want in dogs.
"If you want to train a dog with problems you have to humble yourself," he said. "You have to learn patience."
It's like raising a child. If all a child sees is their father or mother getting into trouble or putting themselves down they won't learn the self-esteem they need in order to succeed in their lives.
"Whenever kids see their parents succeed they realize they can succeed," Barrow said. He realizes that now after working with the Friends from the Pen dogs. He has a stack of dog training books he has read and reread. He plans to become a dog trainer when he is released and returns to his home near Phoenix.
"Working with the dogs' problems is like working with the problems in my own life," said Rod Knagge, who is in his last 40 days of his sentence. Knagge has worked with more than 10 dogs since he entered the program.
One of Knagge's favorites was a dog named Frank.
"He took a lot of patience," he said with a chuckle.
Another was Cosby, at 5 one of the oldest dogs in the program.
"He was like a child and crazy with a ball," Knagge said. "You get to enjoy all the dogs you work with. It's (six weeks) just the perfect amount of time."
It's just long enough to accomplish the training, but not get too attached to the dogs, he said.
Ernest Zarza and Theo Randall are two inmates who are slightly new to the program.
Zarza applied for the program in 2007, but wasn't accepted until recently.
"I've been watching how they work with the dogs since I got here," he said. He took as it as a kind of challenge to prove that he was good enough to get accepted into the program.
"Being around the dogs opens up a new responsibility," Randall said. "It's something different. It's a big responsibility to be given the responsibility to care for another living thing.
"It's the best job on the yard."