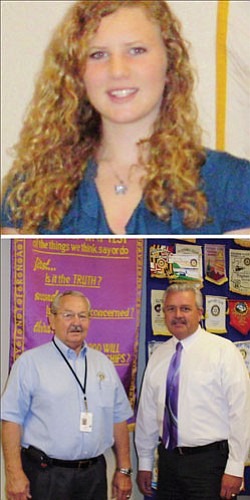 Originally Published: June 21, 2009 6 a.m.
Left, Top Photo: Attending Kingman Route 66 Rotary Club's May 29 meeting was Shane Lassen, the club-sponsored outgoing exchange student. Shane is a resident of Cottonwood and will be leaving in August for a one year stay and study in France.
Left, Bottom Photo: Addressing the Kingman Route 66 Rotary Club at their June 5 meeting was Kingman Police Chief and Rotarian Robert DeVries. DeVries spoke on Kingman's new and improved temporary signs ordinance that was recently passed with no opposition and which took effect June 1.
Below, Top Photo: Kingman Route 66 Rotary Club presented a $2,000 donation to the Little League at their June 12 meeting. Shown above accepting the check from club President Lee Fabrizio is Kingman South Little League board member Russ Skubal. To his right are Little League player Levi Dudley, Kingman North Little League board member Bill McCord and coach Don Doughey. The donation will go toward much-needed field improvements.
Below, Bottom Left Photo: Fellow Rotarian and Kingman Mayor John Salem presents the Key To The City to Alain Lerat (shown above center with Lee Fabrizio and Salem) at Kingman Route 66 Rotary Club's May 29 meeting. Lerat, a Rotary club member from southeastern France, is bicycling from Chicago to Los Angeles to bring attention and support to his Rotary project in the African country of Burkina Faso.
Below, Bottom Right Photo: Speaking at Kingman Route 66 Rotary Club's June 12 meeting were Don Willes, director of KRMC's Del Webb Wellness Center, and Heather Amenhauser, the center's fitness instructor. They are shown with Rotarians Jerry Ambrose (second from right) and club President Lee Fabrizio.
More like this story