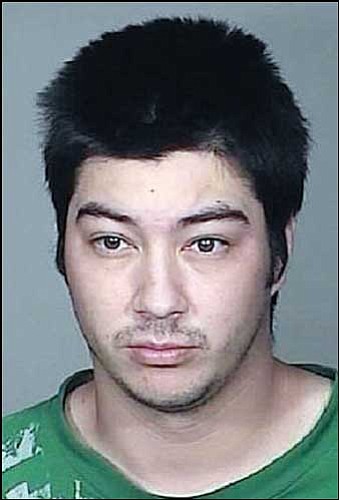 Originally Published: June 24, 2009 6 a.m.
KINGMAN - With his head nearly bowed to the table in front of him, a Kingman man agreed to testify against his five co-defendants Tuesday afternoon.
Jessie Dean Padilla, 22, is one of a group of six men who are suspected of breaking into three Kingman homes March 15, demanding money or drugs from the homeowners. At least one homeowner was beaten so badly that he was sent to the hospital with broken bones.
Padilla accepted a plea agreement Tuesday afternoon and pleaded guilty to one charge of felony first-degree burglary in exchange for testifying against his co-defendants. The charge was reduced from a dangerous to a non-dangerous felony.
He was originally charged with five felony counts of kidnapping, two counts of burglary in the first degree, six counts of aggravated assault, three counts of attempted armed robbery, three counts of attempted aggravated robbery, two counts of armed robbery and two counts of aggravated robbery.
His co-defendants are Chad Jarrett Weitherow, 37; Patrick Jaye Liewer Jr, 18; Mark Michael McLennan, 18; Christopher Lee Holder, 24; and Neil Murico Cannon, 19, all of Kingman.
According to the agreement, Judge Rick Williams could sentence Padilla to between three to 12.5 years in prison, probation or a combination of both. As part of the agreement, Padilla will not be sentenced until after all of the co-defendants' cases are finished.
Williams warned Padilla that as part of the agreement, he must be willing to work with the County Attorney's Office and testify against his five co-defendants if called to the stand.
If he failed to cooperate with the CAO or refuses to testify, the agreement could be withdrawn and the CAO could prosecute him for all of the charges against him, Williams said.
Padilla answered a mumbled, "Yes, sir, your honor," to each question Williams posed to him and stared at his hands.
Williams also reduced Padilla's bond to $1,000 as part of the agreement. Padilla will have to provide the Kingman Police Department with a DNA sample before posting bond, Williams said.
Padilla's attorney, Charles Wallace, warned the court that his client had received threats.
A status hearing has been set for Sept. 2.
The first home invasion call was reported to Kingman Police at 8:15 p.m., on March 15 at a home in the 3500 block of Hodges Road.
The second invasion was reported at 10:45 p.m. in the 1800 block of Club Avenue.
In each case, according to KPD, several male subjects forced their way into the home, brandished weapons and assaulted the homes' occupants while demanding money, drugs and gold.
The third invasion occurred at 3:30 a.m. on March 16 in the 2500 block of Georgia Avenue. When officers arrived at the home, they found one suspect, Weitherow, barricaded inside the home.
The two occupants of the home and an infant were able to escape. The occupants of the homes were treated for injuries and released.
KPD believes Weitherow and Liewer may have known the occupants.
After several hours of negotiating, Weitherow allegedly started a fire inside the home. KPD officers and Mohave County Sheriff's deputies entered the home and arrested Weitherow.
According to KPD, the fire caused substantial damage to the home. Weitherow also allegedly damaged windows, furniture and other items in the home.
Liewer was found in a vehicle in the alley behind the home. He took off, leading officers on a chase down Stockton Hill Road and was eventually captured.
KPD believes Weitherow and Liewer were involved in all three of the home invasions and may have been under the influences of alcohol or drugs. The other three co-defendants were involved in only some of the home invasions.