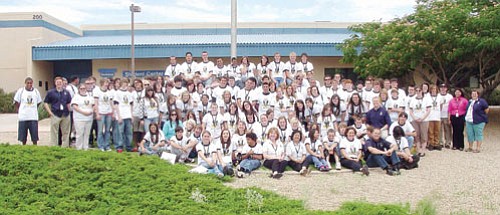 Originally Published: June 28, 2009 6 a.m.
KINGMAN - One hundred and eleven Kingman youth will officially start their six-week-long summer jobs at local businesses that are partnering with Mohave County's COalition YOuth TEam program.
For the sixth consecutive year, local youth have signed up for the COYOTE program to learn basic job skills in a real work setting.
"All of these youths have completed two weeks of work readiness classroom training and they are now ready to succeed on the job," Jen Miles, Mohave County workforce development manager, said.
"We have tripled the number of youths served countywide," according to Youth Program Coordinator Hannah Sagisi. In addition to the 111 Kingman youth, "40 are participating in Bullhead City and 39 in Lake Havasu City - making a total of 190 COYOTE youth learning and earning this summer," Sagisi said.
"This is a huge investment in our youth and our communities," Miles said. "It was made possible by receipt of the stimulus funds and the continued support of our partners."
Forty-eight employers are supervising the young people in Kingman this year, Sagisi said, ranging from florists to manufacturers. "Also, we have several new project teams including an Entrepreneurship/Performing Arts Team and a Green Team."
The youths, many of whom have never had jobs, will have to deal with all the trappings of real jobs: bosses, timecards, and - yes - paychecks.
"Learning new skills is great," said COYOTE Jessica Miller, "but so is getting paid for it."
Miller, like all COYOTEs, will be paid up to $7.25 an hour, according to Sagisi. They are also committed to six weeks of steady employment, though they might get more. Anne Riley of the Mohave County Federal Credit Union has worked with the COYOTE program for five years. Of the five young adults she mentored, she permanently hired two. The program is "great for Mohave County," Riley said, "and it works."
Flora Raya, owner of Lily Pad Day Care, agrees.
"I had an extremely good experience with the kids," she said. Not only is she impressed by their positive attitudes, Raya makes special note of their professionalism during the interviewing process. "I've interviewed older people who are less professional," Raya said.
The COYOTEs themselves are similarly impressed.
"This is not nearly as scary as I thought it would be," COYOTE Kacey James said after interviewing with three separate employers. "I wish I had done this before."
In fact, many have. Of the 111 Kingman COYOTEs, over a dozen are returning for their second or third year. Nineteen-year-old Tegan Gibelyou is returning after a memorable job at the Mohave County Sheriff's Office. Among her office duties, she processed evidence and attended an actual autopsy.
"I got to mess with somebody's brain looking for bullet fragments," Gibelyou said. When asked if she would consider working there again, she said, "I would absolutely love to."
Gibelyou isn't the only one eager to start working. Kayce Herrington, a first-year COYOTE, cannot wait to "actually start working on a real job."