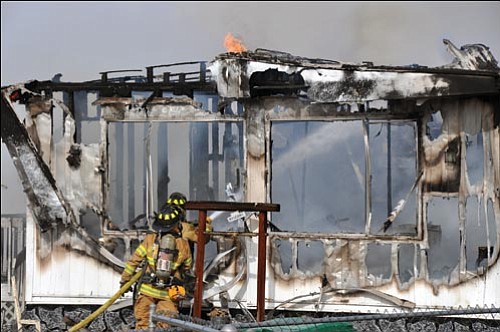 Originally Published: March 1, 2009 6 a.m.
KINGMAN - A meal went awry for a Kingman resident, resulting in the destruction of a mobile home.
At 3:11 p.m. on Thursday, the Northern Arizona Consolidated Fire District No. 1 responded to a burning double-wide mobile home in the 4600 block of Glen Road.
"The blaze was quickly brought under control," Battalion Chief Brian Davenport said. "The structure was totally destroyed."
While no injuries were reported, the two occupants of the residence were left without a home. The NACFD put the Red Cross in contact with the residents.
The NACFD determined the cause of the fire to be accidental in nature. The blaze started when one resident, the only one home at the time, was cooking a meal, Davenport said.