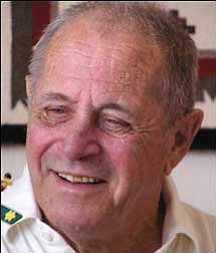 Originally Published: March 4, 2009 6 a.m.
Gerald James "Duke/Jim" Dukeshire, born Dec. 19, 1925, to George Dukeshire and Frieda Stuber in Mishawaka, Ind., and raised in Santa Monica, Calif., suddenly passed away on Monday, March 2, 2009.
He was married 48 years to Gloria Baskerville Chase and raised three children, Richard Knapp (Leslie), Kathleen Haines (Randy) and Candace Rhone (Jim).
Duke and Gloria had the pleasure of enjoying five grandchildren, Eilene Haines, Joseph Knapp (Erica), Alethea Hemmings (Paul), Jana Rhone (Ben) and Eric Rhone; and four great-grandchildren, Sophia Knapp, Julien Knapp, Tyler Hemmings and Aiden Hemmings.
He is also survived by his sister, Gladys Atkisson; his niece, Nancy Taylor (Robert) and nephew, Jason Taylor (Laurie); niece, Tracy Shields (Tim); and two grandnephews and one grandniece.
Jim served in the Navy as a radioman during World War II. He was a longtime employee of the telephone company, first in California, and then moving to Citizens Utilities in Kingman in 1969.
Jim was an active volunteer member of the Twenty-nine Palms, Calif., Search and Rescue prior to moving to Arizona. He helped organize a search and rescue unit in Mohave County in the early 1970s after his move here.
He loved the desert and was on a lifelong search for his gold mine. He enjoyed fishing, gambling, good friends and at one time held a pilot's license.
He enjoyed life in general. He will be missed by many.
Services will be held at 11 a.m. Thursday, March 5, at Sutton Memorial Funeral Home and a reception will follow at the VFW Post 3516 at 2826 Wikieup Ave.
In lieu of flowers, donations may be made to Mohave Museum of History and Arts, 400 West Beale St., Kingman, AZ 86401, or Mohave County Search and Rescue, Kingman Unit, P.O. Box 3392, Kingman, AZ 86402.