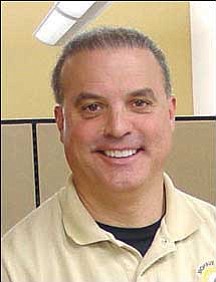 Originally Published: March 5, 2009 6 a.m.
KINGMAN - A former Las Vegas Police officer is adding some muscle to the Mohave County's Environmental Rural Area Clean-up Enforcement team.
"I was with Clark County for 25 years," George Young said, "four with the jail, 21 with Metro (Las Vegas Metropolitan Police Department). I was a patrol officer, 14 years as a narcotics detective, six years with a canine.
"I spent my last year in Homeland Security and retired in December 2005."
Young and his wife, Sharie, presently live in the Hualapai Mountains.
After being retired for two years, Young "was getting cabin fever. I didn't think I'd ever want to work full time again, but I enjoy it (ERACE). It makes a difference having a job you like. I saw the ERACE job on the county Web site and put in for it in September of last year," Young said.
Young took the physicals, polygraph and background check. He ran the physical agility test, obstacle course, took the defensive driving test and qualified with firearms.
"Then I had to go to post headquarters in Phoenix where I took all academy tests in one sitting. I passed everything. The hardest part was the difference between Arizona and Nevada state statutes. The elements of the crimes were the same, but the wording was different." Young became Arizona post certified on Feb. 10.
"Illegal dumping is a huge countywide problem," he said. "I see it while riding my dirt bike. I've had flat tires on it from people dumping out there. We are here to find the litter generators," he said. "We will identify them through pieces of evidence they leave in the trash in the desert. I don't care if it's on public lands, Bureau of Land Management lands or private lands. If it is the county, we will investigate.
"If it is criminal dumping, we handle it. We are always the first line of complaint for any kind of littering nuisance or storage situation and will work with the appropriate agency."
To report illegal dumping, call the Sheriff's Office "and they will contact us," Young said. "Or they can call me direct at (928) 716-4902 from 8 a.m. until 4 p.m. Monday through Friday."