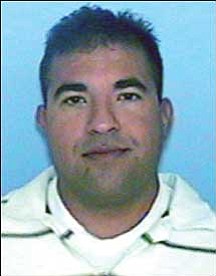 Originally Published: March 6, 2009 6 a.m.
KINGMAN - Superior Court Commissioner Lee Jantzen may be called to testify in the cases of a Kingman couple facing drug charges.
Attorneys for Jose and Deaney Ochoa filed a motion to suppress evidence from a wiretap in the Operation Picture Perfect case. They also filed a motion to compel disclosure of evidence.
Operation Picture Perfect was a methamphetamine bust that occurred in April of 2008. According to court documents, wiretaps were used extensively in the case to gather evidence.
Henry Florence, Sherry Bell and Tracey Lenoard, attorneys for the Ochoas, argued in court that the evidence from the first wiretap should be suppressed based on the fact that Commissioner Lee Jantzen signed the warrant.
They claim that while working at the County Attorney's Office, Jantzen may have helped investigate and prosecute a case involving Jose Ochoa's brother, Martin, in 2001.
The Ochoas' attorneys state in their motion that during the investigation, Martin made statements about Jose and that the CAO investigated Jose for drug trafficking.
Because of his possible involvement in the investigation of Jose and the prosecution of Martin, Jantzen should have recused himself from signing the wiretap warrant, they contend. The attorneys also asked for documents from both investigations in order to determine Jantzen's involvement in both cases.
County Attorney Greg McPhillips argued that Jantzen signing the warrant was irrelevant to the case. What mattered was whether the CAO met the requirements of the wiretap warrant.
Jantzen did work in the CAO during the investigation and prosecution of Martin Ochoa in 2001. However, he was not the prosecutor on the case, McPhillips said. Jantzen also left the office before law enforcement started Operation Picture Perfect in 2007.
If the defense wanted to know Jantzen's involvement in the case, McPhillips said, they should call him as a witness.
Judge Steven Conn recessed the hearing for one hour and ordered McPhillips to produce documents relating to the 2001 Martin Ochoa case to the defense.
McPhillips returned in an hour with three bundles of documents. He stated he could not find any mention of Jantzen's name in any of the documents.
Leonard and Bell requested a continuance in order to examine the documents and possibly set up an interview with Jantzen.
Conn granted the continuance. The date of the continuance will be set by a minute order.
According to court documents, Jantzen approved the first wiretap in Operation Picture Perfect in August 2007. The CAO subsequently asked for three supplemental wiretaps to expand the scope of the investigation. The investigation eventually led to the arrest of 18 suspects. Seven suspects have accepted plea agreements. The Ochoas are two of 11 remaining suspects who are still on track trials.