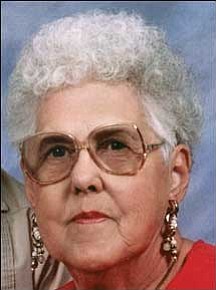 Originally Published: March 6, 2009 6 a.m.
In memory of Bettie Jean Crucius, who passed away in her home on Tuesday, March 3, 2009, surrounded by her family.
Bettie is survived by her husband of 52 years, Gerald Erich Crucius of Kingman; her brother, Paul David "Dave" Jensen; and her children, Steve Wesley McLain of Temecula, Calif., Daryl Leon Crucius of Las Vegas, Cheryl Goen of Kingman, Laura Deanne Bode of Indianapolis and Michael Jeffery Crucius of Lucerne Valley, Calif. She is also survived by her grandchildren, David Allan McLain of El Monte, Calif., Jeffery Paul Messenger of Inglewood, Calif., Shanie Marie Messenger of Las Vegas, James William Rogers of Banning, Calif., Joshua Allan Wilson of Kingman, Amanda Christine Bode of Riverside, Calif., Scott Allen Bode of Downey, Calif., Misty Marie Crucius of Longview, Wash., Tristan Nicole Crucius of Lucerne Valley, Tia Lynn Crucius, Tay Lin Crucius, Erica Crucius, and Joseph Erin Crucius, all of Lucerne Valley; Ryan Wesley McLain, Lance Allen McLain, and Andrew Stephen Miller McLain, all of Temecula, Calif.; and many great-grandchildren, nephews, nieces, aunts and uncles.
Visitation will be from 10 to 11 a.m. Saturday, March 7, at Kingman First Assembly of God, 1850 Gates Ave., with the service immediately following at 11.
Sutton Memorial Funeral Home is handling arrangements.
More like this story