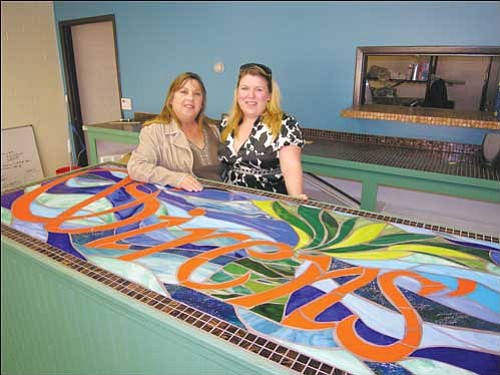 Originally Published: March 11, 2009 6 a.m.
KINGMAN - A longtime fixture of downtown Kingman will get a new name in the coming weeks - and a new lease on life - courtesy of a mother-daughter team with a longtime history in the restaurant business.
Since it closed last autumn, the Kingman Deli at 419 E. Beale St. has stood vacant, a silent testament to the state of today's economy. But that changed two months ago when local Realtor Denise McMillan and her daughter, Carmella Hynes, strolled past the darkened storefront.
"It's always been my dream to open my own place, my own café, and have my mom be a part of it," Hynes said. "We were walking downtown and saw the 'For Rent' sign in the window there, and we decided, 'How 'bout now?'"
The two women leased the building later that month, and thus, Sirens' Café and Customer Catering was born. But while the new restaurant's mythical namesakes were renowned for luring sailors to their death, Hynes and McMillan only hope to lure Kingmanites to a satisfying meal, serving the same kind of deli fare, but with the family's own unique spin on it.
"We will be offering a variety of sandwiches, homemade soup, and also - I don't know if it's going to be as soon as we open because of the logistics involved - but eventually, we'll work our way into doing a hot dish of the day," Hynes said. "We'll have some of our own homemade lasagna and some of the recipes from our family, too."
Hynes is no newcomer to the restaurant business. She graduated from Northern Arizona University with a degree in hotel and restaurant management and has spent much of the last 10 years helping manage various local restaurants. She also spent time studying the culinary arts in her ancestral homeland of Italy, and can claim restaurateuring runs in her blood - after all, her great-grandfather was a chef for the famed Brown Derby restaurant in Los Angeles. "Being in the restaurant business has always been in our family," Hynes said.
McMillan noted that Sirens' also intends to bring back the Kingman Deli's lunchtime delivery service, and will do catering for special events such as weddings or private parties.
While they're still working on submitting all the necessary paperwork and securing food-preparation equipment, the two women have already left their personal mark on the restaurant, repainting the walls a deep, sea-blue cerulean and redecorating the front counter with a beautiful glass mosaic pattern emblazoned with the restaurant's new moniker.
"Right now what we're doing is a lot of cosmetic stuff in there. We're not there yet," McMillan said. "(Hynes) will be the owner. I'm her partner in crime as her cook and, just backup."
Hynes said she hopes to have Sirens' open by mid-April. In remodeling the Kingman Deli, she said she hopes to add her own individualistic flair to the host of other esoteric restaurants that have sprung up in Kingman's historic downtown commercial district over the past two years, including the Beale Street Brews coffee shop, the Cellar Door wine bar, and the most recent addition, Redneck's Southern Pit BBQ.
"I'm just excited about downtown getting revitalized, getting more foot traffic and making downtown more of a destination to eat and shop, and (the new businesses there) are doing a great job of that," she said.
"(The Kingman Deli) has been feeding the downtown area for 30 years. It's a big part of downtown and there's a lot of history in the building too."