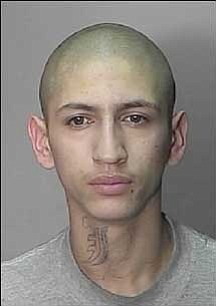 Originally Published: March 13, 2009 6 a.m.
KINGMAN - The trial date of a Kingman man charged in a drive-by shooting case has been pushed back, the second time it has been moved.
Pasqual Acuna, 19, is charged with five felony counts of aggravated assault and one count drive-by shooting.
Acuna's attorney, Stephen Glazer, asked for a continuance of the trial date Wednesday morning in court. He told the court he had not yet interviewed one sheriff's deputy and had not received word from the County Attorney's Office if any of the alleged victims in the case were willing to speak with him.
County Attorney Derek Carlisle objected to the continuance. He told the court that two of the alleged victims may have been deported, and he had not been able to get a hold of some of the others.
He also pointed out that Acuna had been held without bond in the county jail since June and the incident took place at the end of 2007.
Commissioner Lee Jantzen continued the trial date to 9:30 a.m. on April 7.
The trial is expected to take five days. An evidentiary hearing was set for 8:30 a.m. on April 1.
On Dec. 31, 2007, Acuna, with two of his brothers, allegedly drove to Raymundo and Gustavo Mendoza-Canchola's home to confront them about something that had happened to his sister.
Acuna and his brothers allegedly threatened the Mendoza-Canchola brothers with a bat and a gun. The gun allegedly went off and the Acunas fled the scene.
A truck full of people from the Mendoza-Canchola home followed the Acunas down Unforgiven Lane. Pasqual Acuna allegedly shot at the truck full of people while his brother Billie drove.
In June, Billie Acuna accepted a plea agreement and pleaded guilty to one count of drive-by shooting, reduced from a dangerous felony to a non-dangerous felony. He was originally charged with five counts of aggravated assault with a deadly weapon and one count of drive-by shooting.
He was sentenced to six years in prison.
Pasqual is also charged in several cases with multiple counts of drug possession and aggravated assault.
He is also charged with one count of theft and one count of first-degree murder in the death of Anthony Martin in December 2007.