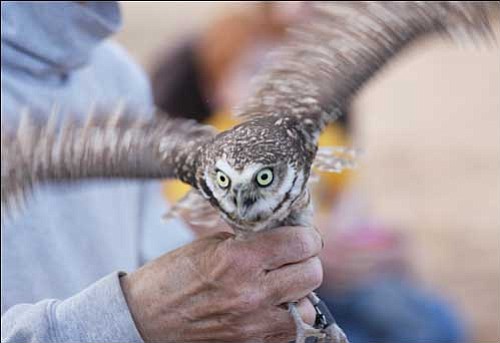 Originally Published: March 17, 2009 6 a.m.
KINGMAN - Wild at Heart, an all-volunteer, nonprofit organization dedicated to wildlife conservation, started the process of relocating several displaced burrowing owls to their new home northeast of Kingman on Saturday.
The organization takes burrowing owls (which are protected under the Migratory Bird Treaty Act of 1918) from areas due to be developed and relocates them to new sites not planned for development, where they can continue playing their part in the natural world, preying on rodents and insects. Volunteers built tunnels made of pipes and other places for the owls to find shelter.
On Saturday, three tents were put up over those tunnels and perches placed on BLM land off Antares Road northeast of Kingman. Several owls, mostly rescued from sites in Maricopa County, were placed in the tents to acclimate and adjust to the new climate. Work on the owl site continued the next day.
The owls will live in their tents for about a month as volunteers feed them mice. Then the tents will be removed and the owls will be free to stay or go. In past operations, some owls have left and others stayed put, eventually even laying eggs and raising broods in the artificial tunnels.
Several former owl relocation sites already exist at the location along Antares Road and just north of Mohave Community College in Kingman.
Burrowing owls are native to desert grasslands in this area but there are places that could support more of their numbers than currently exist.
Greg Clark, of Wild at Heart, was the project leader for the event. Contact him at (480) 961-4047 for more information.