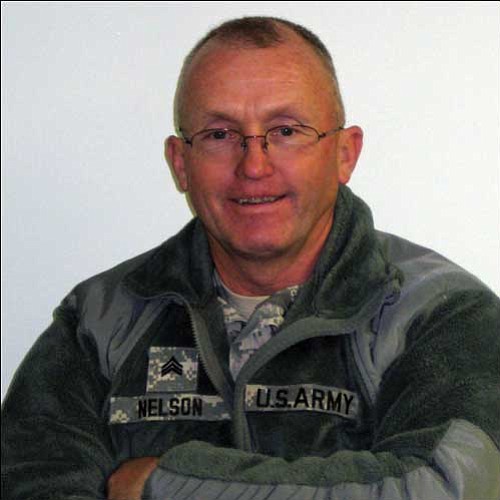 Originally Published: March 17, 2009 6 a.m.
KINGMAN - Mac Nelson will be taking his boots off the fire engine and setting them on Iraqi soil.
Since last year, Nelson has served as firefighter and emergency medical technician with the Kingman Fire Department. Now, the sergeant in the Army National Guard is being deployed to Iraq.
"I expect it will be hot, dusty and sandy," Nelson said. "My goal is to see a camel spider. I've never seen one before."
Having served for five years of active duty with the Navy following high school graduation, Nelson said he felt the call to return to military service following 9/11. He joined the Nevada National Guard approximately six years ago.
He was deployed twice while with the Navy. The first was during peacetime - on the second he was stationed off the coast of Iran during the hostage crisis, which ran from 1979 to 1981.
"It was a lot of waiting off the coast for 78 days," Nelson said. "We were just waiting for the orders to do something."
He'll be doing something now. The Army notified Nelson his tour could be up to 400 days, though he is expecting less time in Iraq. His enlistment ends approximately halfway through the tour, though Nelson said he plans to re-enlist.
"My attitude is if I can run with the young dogs, I don't have to sit on the porch," Nelson said.
With the National Guard, Nelson has been in training since January for the move from engineering to transportation unit. He spent two weeks for truck driving and two weeks for pre-mobilization training.
Nelson expects to be at the preparation site on April 10 for drills led by soldiers with experience serving in Iraq.
"The Army has been trying to cut down the length of tour in country," Nelson said.
Nelson has been interested in the fire services long before joining the KFD, having served at Pinion Pines Fire District and the former Hualapai Valley Fire District for several years.
"I love being a firefighter," Nelson said. "It's probably the best job I've ever had."
Nelson previously worked with the postal service.
"It's a privilege," Nelson said. "First, it's a privilege to be a firefighter in Kingman. I love the work. I love the people. I love the community."
For Nelson, his dedication has gone beyond the everyday tasks of a firefighter. He is the bagpipe player for the KFD Honor Guard.
Beyond temporarily leaving the KFD for the deployment, Nelson will be apart from this wife Deana and two children, Skye and Rorie.
"They've been very supportive," Nelson said. "Probably a little nervous."
Nelson said he has spoken with his family about the risks of seeing active duty in Iraq, but he added the political climate is becoming more settled and less violent.
"I think I'd rather be posted as a soldier in Iraq than a cop in D.C.," Nelson said.
Like the military, the fire service creates a close bond among their members, Nelson said. They have already been there for his family when he went through training.
"I've have gotten nothing but tremendous support," Nelson said. "I even have volunteers to mow the lawn when I'm gone."
While Nelson isn't the first city worker to be deployed, he is the first firefighter, Assistant Fire Chief Joseph A. Dorner said.
"I'm hoping and praying for a safe return," Dorner said. "We're proud of him, but we're also proud he is a member of the organization."
The KFD pulled Nelson off of active duty for A Shift at Station No. 1. While he is gone, Dorner said they would fill the position with existing full- and part-time personnel.
On his shift, Nelson said he learned how to function in a system with incident command. The systems for KFD and Army synch up well on the basic level, he said. There are differences, though, that he expects will be even more noticeable when he comes back.
"There is always an adjustment," Nelson said. "When I come back, I'm going to have to dive into everything to get up to the KFD level."
More like this story